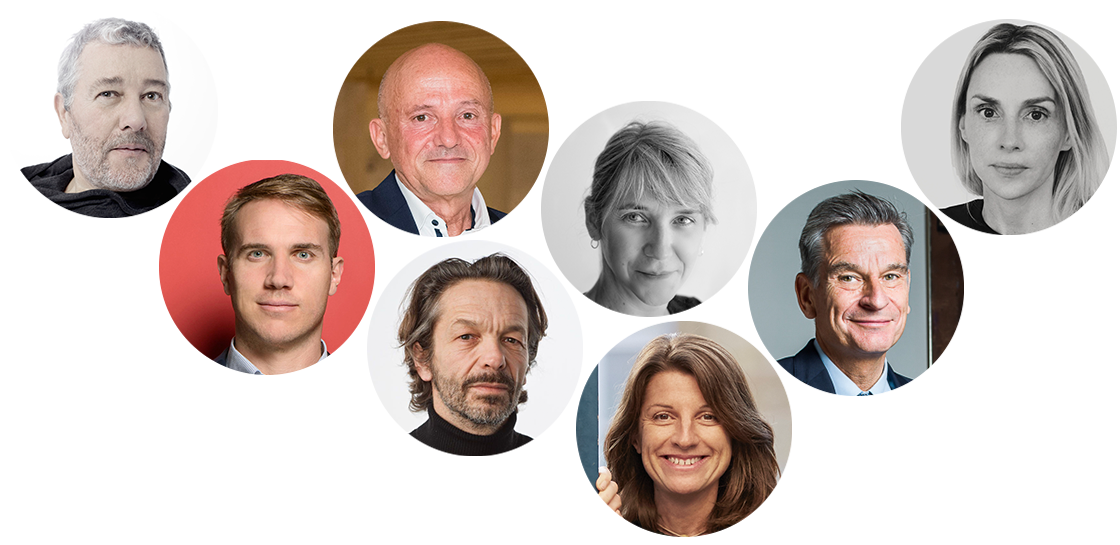 1. Celebrating history to invent a new story 
"French decorative arts completely nourish my creativity", says Hugo Drubray, an interior architect, designer and sculptor born in 1995, "I draw my inspiration from artists and craftsmen of the 17th and 18th centuries. My approach is steeped in the history of these decorators, like Charles Lebrun and his work on Versailles interiors." If he proudly claims this homage, Hugo Drubray is nevertheless in-sync with his epoch. Witness his series of bevelled mirrors, "Aux Arbres", that the designer based in Seine-Et-Marne presents for Maison&Objet. The frames, in beech or yellow, white or rose gold, act as digital sculptures developed using cutting-edge technologies.
The curious eyes of our Rising Talents not only look back on a Franco-French heritage but embrace the whole of the "Great History" of design that transcends eras and crosses continents. It was in Brazil that Tim Leclabart drew inspiration for "Curved", his first piece: "This coffee table evokes my stay in Rio and reflects my affection for Oscar Niemeyer. The free form of the plateau recalls the roof of his family home, the Casa das Canoas." In addition to this memorable trip, connections with galleries and antique dealers allow Tim Leclabart, to rub shoulders with historical design and the contemporary scene. Born in 1988, he opened his studio in Paris in 2019 and is preparing a first solo show for the Mouvements Modernes gallery. For Maison&Objet, Tim Leclabart presents exclusive objects that embody a timeless signature where refinement and postmodernist references come together.
2. Daring all hybridisations
Nourishing on this history, our Rising Talents best free themselves from all codes and an all-too-restrictive academicism. Shaking up conventions, they cross all bridges and turn at all the intersections on their creative trajectories. A new way paved itself under their feet; practices and mediums unravel to recompose themselves better under their expert fingers.
Winner of the Rising Talent Craft prize awarded by Atelier d'Art de France and its President Stéphane Galerneau, recognising each year the work of a young craftsman, Jeanne Andrieu embodies this generation that dares all hybridisations. Her ceramics lean towards sculpture rather than purely functional design: "I'd say they are more like works of art!" she says. "They represent fragments of memories and a world that I recreate from my studies of fauna and flora as much as inspirations drawn from Fantasy authors and filmmakers." Born in 1995 and living in the Drôme region, where she perfected her technique at the Maison de la Céramique in Dieulefit, Jeanne Andrieu maintains an intimate relationship with her favourite material: "A hard of hearing person, I live in a bubble. It upsets my relationship to time. Working with clay translates my experience of loneliness and allows me to create tangible contact with what feeds my imagination." For Jeanne Andrieu, Maison&Objet is an opportunity to present new technical experiments and recent enamel research.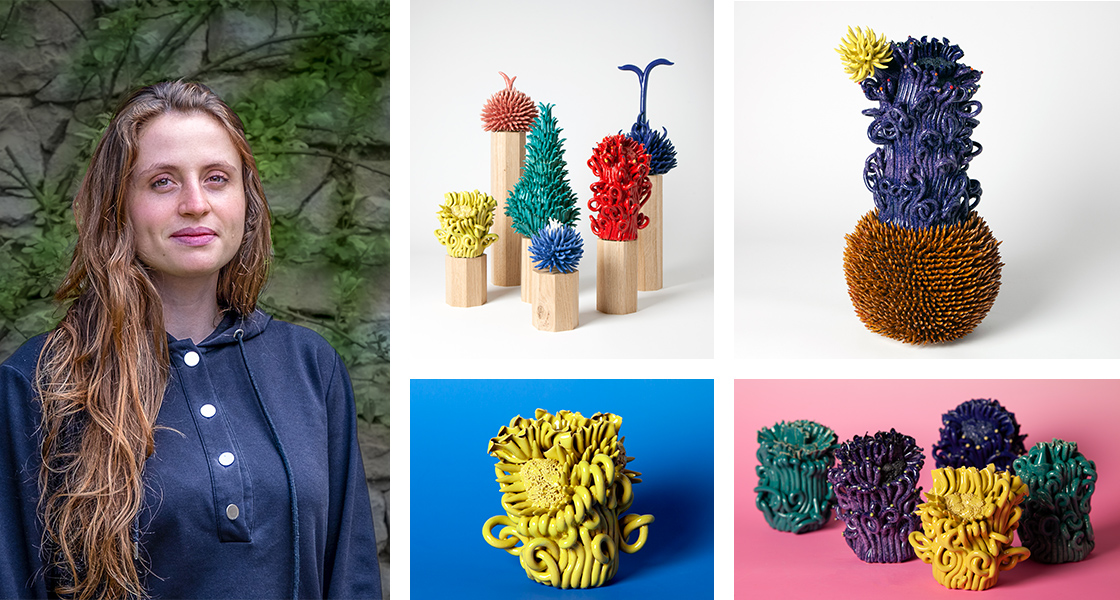 A brand created by Arthur Fosse and Samuel Perhirin, born respectively in 1997 and 1996, Passage operates a subtle synthesis between design and fashion. "We are inspired by creators such as Pierre Cardin and Raf Simons, who have also explored the porosity between these two disciplines," says Arthur Fosse. "The international aura of French fashion is based on its concern for quality and excellence, but also on its ability to transmit exceptional know-how," continues Samuel Perhirin. "We see this same desire in design. There is no longer any distinction between objects and clothing." For Maison&Objet, the young house unveils the pieces of "Mise à l'eau", a first collection with simple shapes and sustainable materials that make up a contemporary technical and playful universe. "The balance between the textile and furniture pieces allows us to consider them here as a coherent whole, reflecting our identity," concludes Arthur Fosse.
3. Rethinking everyday life with human-conscious objects
Convinced that the next generations of products subject to the challenges of energy sobriety define new aesthetic standards to be explored, our Rising Talents invest in industrial design with a fresh perspective impetus.
"I see design as a tool that must respond strictly to improving the lives of as many people as possible," states Athime de Crécy, "I have more esteem for a practical object than for a beautiful thing", resumes Athime de Crécy, when asked about his practice. "This reflection naturally directs me towards industrial design, which seems better for understanding the reality of the world of consumption." So curious to revisit everyday objects and explore all their functional and formal possibilities, Athime de Crécy founded his studio in 2022. For Maison&Objet, he presents "Here Jack", an extendable table and "CEB", an electric motorbike concept exploring new urban mobility.
A design office founded by Sébastien Cluzel and Morgane Pluchon, both born in 1988, SCMP DESIGN OFFICE also intends to put people back at the centre by questioning the use of their everyday items. "These objects speak of us, our cultures and our habits," they explain. "These are objects that we love, pass on, and carry around: they are part of our lives!", SCMP presents at the show a selection of pieces proving the ability of the duo to work at different scales: the "GALTA" collection designed for Kann Design, suspensions for Theoreme Editions, the "DORVAL" lamps by Lambert&fils and a set of sake glasses for the Japanese manufacturer Kimoto Glass.
4. Reinventing production methods
Rethinking the object and its consumption implies questioning all the actors and all the stages of the manufacturing's mechanics. Beyond their own creative practice, our Rising Talents strive to transform production methods, link by link, from one end of the chain to the other.
The youngest of this edition, born in 1995, Nicolas Verschaeve innervates his practice with a strong commitment and respect not only to the production of objects but to their spaces and their representations. "I define my practice as 'situated' in the sense that I envision it closest to where the world is changing," he explains. This keen attention extends our ways of living in an ever-changing society, which Nicolas Verschaeve translates into the unique collection of turned wood furniture he presents at Maison&Objet. Produced with a tool handle factory, this series coexists with glass objects, terracotta pieces and cork seats.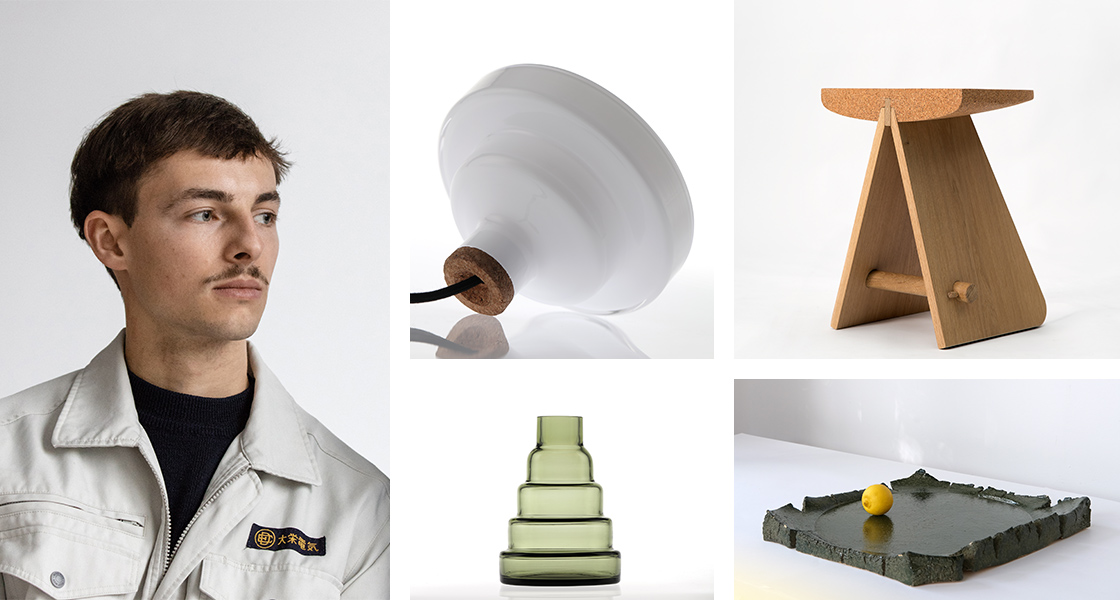 For Passage, creativity can no longer ignore a particular form of responsibility. "We are committed to preserving and promoting French know-how and crafts while responding to ecological issues," defends Samuel Perhirin. "This involves considering the materials, origin, use, and production method," says Arthur Fosse. The brand is therefore trying to contribute, on its scale, to this reflection by producing, for example, its floor lamp "La grande perche", presented at the show, with the Atelier Blam located in Nantes and the glass craftsman Victor Stokowski, near Paris. 
5. Nature always does things right
The works of Jeanne Andrieu reinterpret the sculptural quality of plants and corals: "Their infinite patterns, textures and colours fascinate me," she explains. "Through the act of creation, I wish to compensate for the disappearance of a world. My sculptures are fossils frozen between dreams and reality." If our environment is repeatedly degraded, nature, as recreated by Jeanne Andrieu, remains abundant and whimsical, forcing the viewer/consumer to open their eyes to the loss of our resources.
Working as a naturalist researcher, Hugo Drubray also draws inspiration from the forms of nature to produce his pieces. The organic contours of the "Aux Arbres" mirrors presented here evoke the intertwining of branches observed in the Fontainebleau Forest neighbouring his home. "The principle of 'biomimicry' is at the heart of my approach," he explains. "Today, it is a question of drawing from the study of natural creative processes the solutions that promote the development of ethical habitats, respecting both nature and people."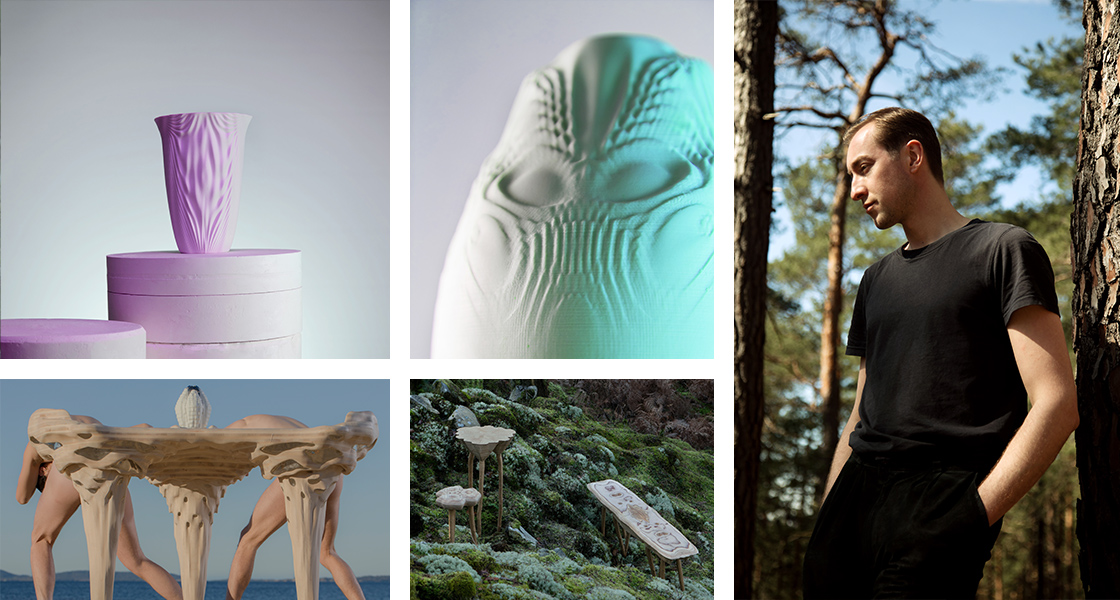 6. Object fades, symbol stays
It is not a fixed heritage but a cycle of construction, deconstruction and reconstruction. In addition to using sustainable and locally produced materials, it is through the symbolic charge that their objects aspire to live in time.
The philosophy of a "souvenir design" drives Tim Leclabart's approach. The creator imagines objects that, in addition to their functionality, have an emotional meaning which can resonate with everyone. "My objects are designed to be travel souvenirs, special events or important moments in (my) life," he explains. "They are artefacts, pieces of past history and a committed future, practical but also meaningful."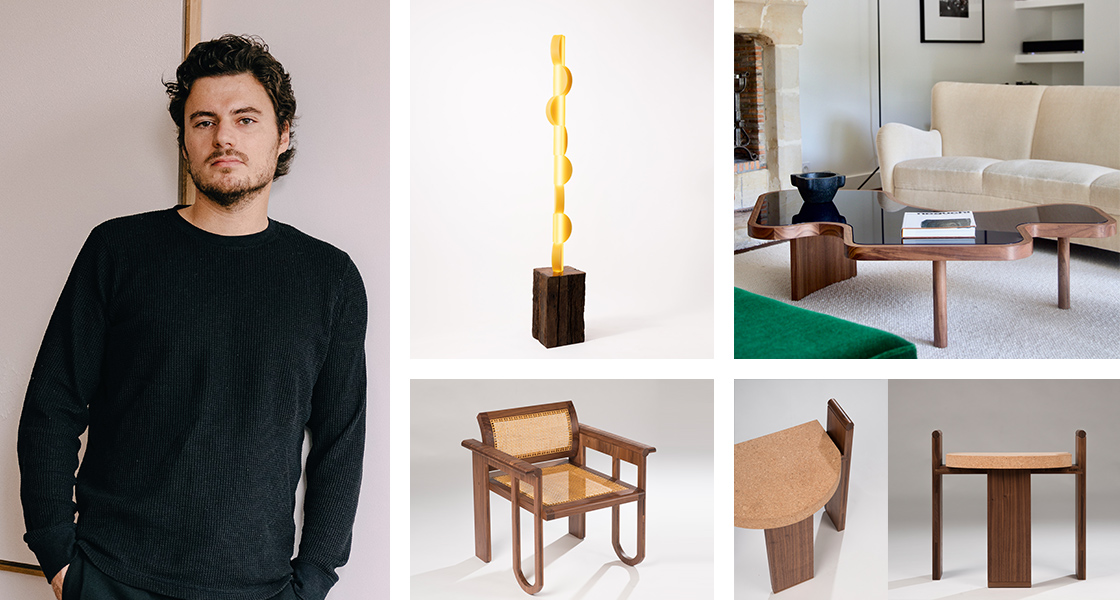 Athime de Crécy describes a shift towards a globalisation of imaginations with a non-conformist desire: "Consumers in the four corners of the world want to feel in touch and in motion with a global trend. A new fact of creation would be to find arrangements to make this collective taste converge with the local specificities of production methods," says the former Starck collaborator.
7. Design's "social contract"
"The strength of the design field is to be versatile to adapt its methods to new purposes. Today, the question is to know which desirable future it is essential to direct our efforts to," claims Nicolas Verschaeve. In 2016, in parallel with his studies, the designer set up a nomadic design office which still leads him today to live – for the duration of a project – in a territory. "This itinerant approach allows me to follow the laws of the material, the gestures of those who transform it and the artisanal or industrial processes involved."
This social question becomes essential for Sébastien Cluzel and Morgane Pluchon : "The design of the future must be aware of and responsible for its involvement in society and on the people who produce these objects." It is, therefore, no longer just a matter of technical innovations: "It is essentially a need of changing mentalities." Combining creativity and responsibility for the advent of objects that genuinely meet our basic needs, this is the leitmotiv defended by SCMP and unanimously shared by their co-winners of this thrilling new edition.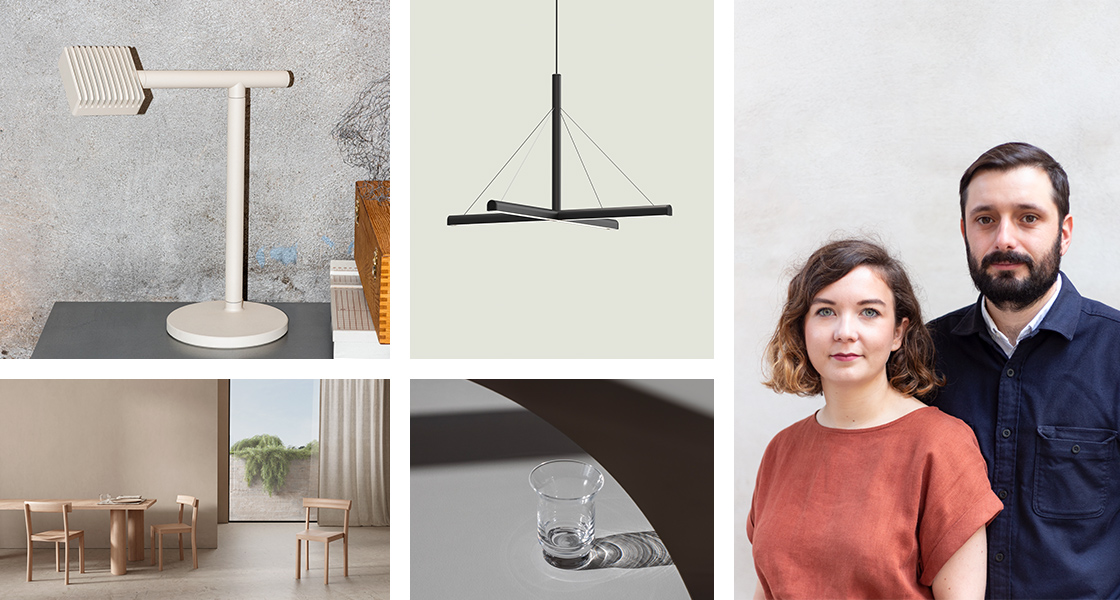 Beyond the obvious environmental impacts, our Rising Talents do not omit to take into account social, economic, cultural or political factors in the production of objects that are more "conscious" than ever. An undoubtedly French reflex, perhaps: when design engages in a "revolution" to transform society for the better.