Farewell to single-use products 
The 24 tons of carpet that adorned the floors at the January edition have already embarked on a new life elsewhere, and all the waste has been meticulously sorted ready to be recycled. The signage, meanwhile, has been carefully folded, wrapped and stored away until September. Several editions of the trade fair have, indeed, already been and gone since the decision was first made to opt for equipment, accessories, fixtures and fittings that could be reused in the future. If you felt slightly peckish this time around, you probably recognised the brightly hued restaurant over in hall 3 that was already standing by to help recharge your batteries on completing the previous Maison&Objet marathon. The pristine white Rising Talents zone, meanwhile, is a blank canvas that is rebooted for each edition, setting the stage for a brand-new story each time. January saw several up-and-coming Spanish designers showcase their creativity in this immaculate space that has become one of much-awaited highlights of the event. 
The measure of hard work
42.06% of waste was recycled in 2023, compared to 38.48% in 2020. The slow but sure progress being made towards becoming a more responsible event is now being measured across the board using a tool created by France's event management union Unimev (Union Française des Métiers de l'événement). It is a tool that enables Maison&Objet to monitor its ongoing work to reduce its carbon footprint. The results not only provide a clearer picture of the efforts already made, but also highlight any areas in which further improvements are still needed, from waste production to the transport methods visitors use. For the majority of the areas where work is still to be done, the trade fair is dependent on its partners making progress, too.
More quickly, more responsibly
Visitors need to be encouraged to use public transport (when strikes aren't happening, that is!), and contractors need to be made aware of what the new expectations are. Implementing change is always a slow-going process, as it can involve restructuring a firm's organisation, communications, logistics, economic decisions or, indeed, everything at once. "The power of an event such as the Olympic Games, which Paris is set to host in 2024, could incite some of the trade fair's longstanding partners to implement change more quickly in order to meet the global event's exacting standards", explains Julie Pradier, Strategy & Market Intelligence Manager at SAFI. "Higher, faster, stronger", and perhaps more responsible, too!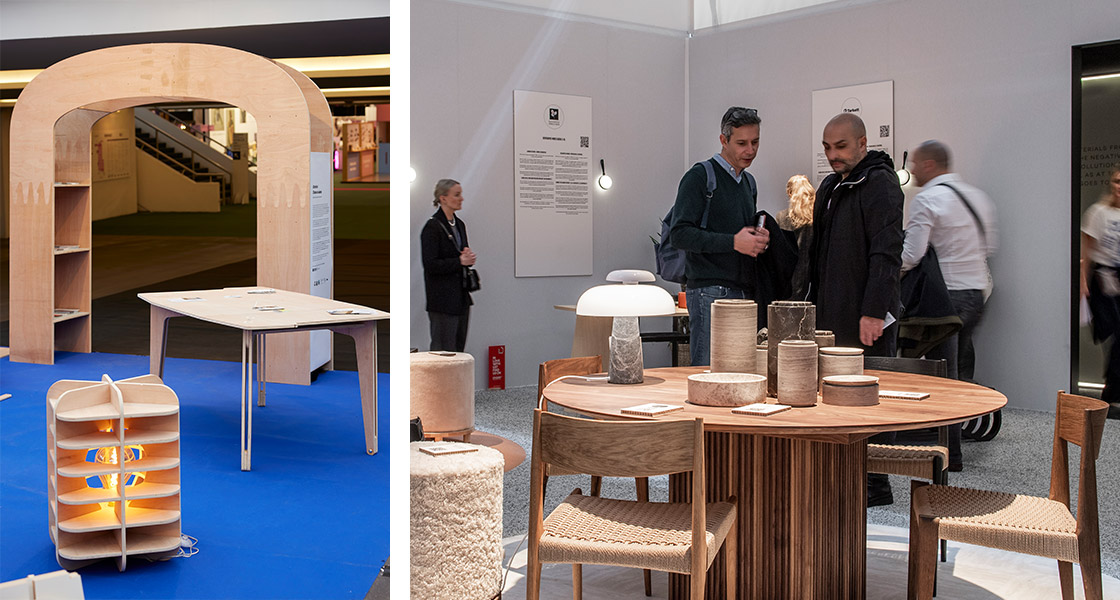 Exemplary initiatives
Whilst we wait for that mindset to gain traction and ultimately bear fruit, some remarkably inspiring initiatives were already sparking curiosity, prompting questions and generating enthusiasm at the most recent edition of the trade fair. FabCity Paris is an association that has its sights firmly set on promoting the circular economy and building urban resilience. In January, it joined forces with Maison&Objet for the second time to breathe new life into some of the wood left over from the previous edition. Eight hand-picked designers were given two days and a variety of tools, including a laser cutter and a digital milling machine, to refashion the wooden remnants into their very own one-off creations. The end result? Fourteen different objects and items of furniture that were exhibited in January to great acclaim. "When each piece of furniture was created, it generated a digital file that would allow it to be reproduced using the same machines. One particular visitor wanted to buy 5 bench seats for a building they were working on in Abidjan, and we were able to give them the opportunity to buy the files as well as offering them assistance with sourcing the materials, manufacturing the pieces on-site and then assembling them. It's a process known as distributed design", explains Adrien Malguy, the association's communications officer. So, what's next? "After January's event, we recuperated quite a lot of wood, carpet, cotton and signage that FABCITY and Studio Emmaüs will be able to use", discloses Franck Baldini, the trade fair's Technical Director, who has been spearheading these initiatives since day one and this September intends to bring on board the design workshops operated by the solidarity charity founded by Abbé Pierre. 
Capitalising on innovation
Those involved in Future On Stage, Maison&Objet's brand-new springboard to support standout up-and-coming brands, often sit at the cutting edge of these circular design processes. One of January's most memorable was the innovative and astounding process perfected by Gwilen, a firm that produces wall tiles from marine sediment, an abundant natural resource that builds up in the water causing an obstruction in ports. The fledgling firm has developed a process that uses next-to-no energy to create a product whose irregular appearance and patchwork of 21 naturally pigmented hues oozes quirky charm when fitted as a splashback, for example.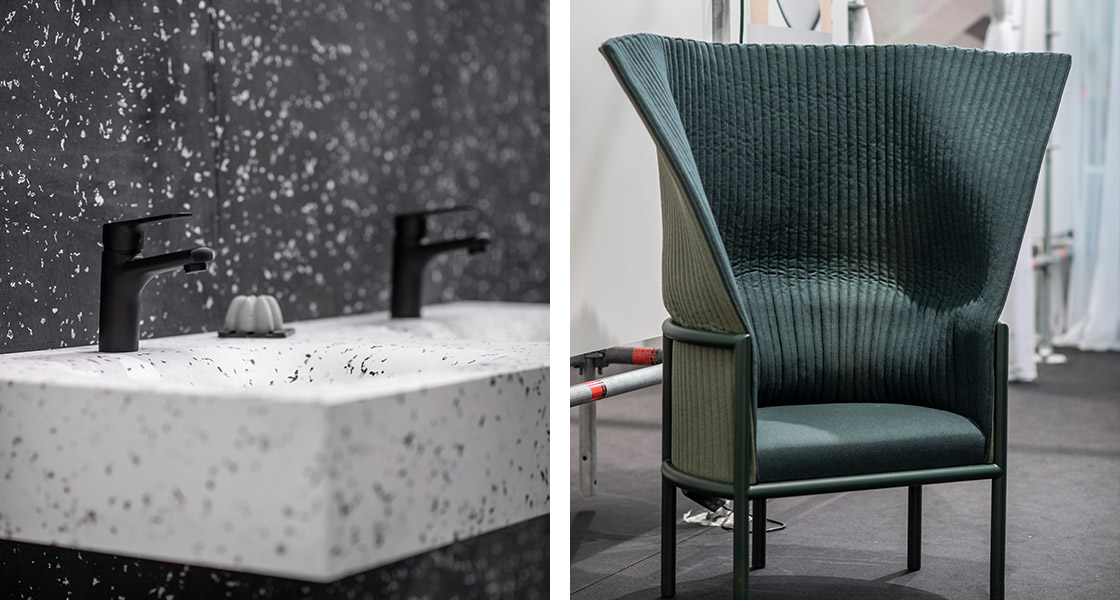 Continuity of ideas
As for the more experienced exhibitors, Noma stood out from the crowd for the crystal-clear consistency between its ethos as a design house and the design of its trade fair stand. This is a firm whose product names proudly announce the percentage of recycled materials each item contains: think Sam Baron's SEN 66.9 chair or Charlotte Juillard's Laime 42 collection... Its zero-waste policy clearly drove the aesthetic when it came to staging the display, with the furniture sitting on a bare floor rather than nestling on swathes of carpet. "People usually don't even notice, or they understand that the unfinished look reflects our brand identity", explains Guillaume Gallois. Decisions regarding the choice of fittings and the way in which they are designed are also guided by a desire to be frugal. "When we were designing our very first stands, we created a shelving system that we could reconfigure and reuse two or three times, and it's now being used in our showroom", adds the brand's co-founder. "The large panels that we currently use are made from reclaimed wood that was given to us by one of the artisans we work with. In terms of packaging, we use very little plastic film and transport our furniture in elasticated covers instead." 

As all these examples show, the shift towards becoming a more responsible event involves a combination of desire, perseverance, curiosity and inventiveness, with what would appear to be the simplest tasks sometimes proving to be the most complex. Which materials could be used, for example, to replace the plastic passes and lanyards that exhibitors scan to retrieve visitors' contact details? That's just one of the topics we're currently working on for September. Watch this space…