Exalted hedonism and a rediscovered taste for optimism
Perhaps more than any other generation, today's adults seem determined not to forget the children they once were yesterday, nostalgic for the carefree existence that ruled their lives at the turn of the new millennium. Regressive references and recreational philosophy inspire and animate these survivors of the Y2K bug, tired of the gloom that has set in over twenty years after a start of a century thought to be rich in promise. A thorough sweep of the austerity and frugality imposed by a global context at the height of anxiety. Because "optimism" and "assumed pleasures" are not incompatible with the issues at work and the necessary transformations of our society. A virtuous and reasonable consumption can be synonymous with an uninhibited hedonism and become a firing engine for creativity.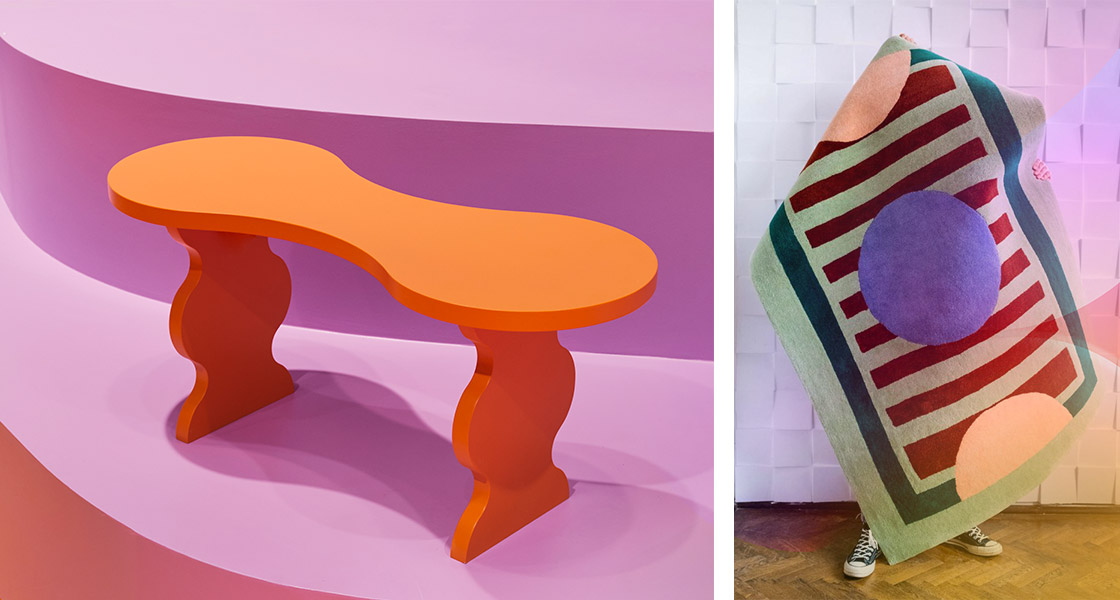 To better re-enchant our daily lives, contemporary creators invent a new dialogue mode with nature, the environment and their fellow humans to feed our appetite for curiosity. A well-understood and assimilated approach from Wow!, the fund created by Airbnb to promote the emergence, around the world, of the most innovative eco-responsible architectural projects. At the Big Idaho Potatoe Hotel, one can spend a night in a root-shaped building or even nestled in the hollow of a fossilised dinosaur skull in the middle of the desert. Far from an individualistic quest – but, let's face it, a little crazy – this approach stimulates liberating and joyful creativity while enhancing heritage, promoting culture and fostering social ties.
DESIGN AND PLEASURE: A THREE-STEPS DANCE
If all paths can lead to pleasures, Maison&Objet has cleared three principal ways for you to better navigate the map of happiness in the land of design: "Seductive expressiveness", "Liberating creativity", and "Increased sensitivity". Three axes to escape conventions and academicism, to walk freely in today's creators' fertile and joyful imaginations. These same artists do not hesitate to take all the creative crossroads of inspirations and influences to dare a great fantasy of mixtures whose formal hybridisations exalt all our senses.
Seductive expressiveness
This first great road to joy sees a caravan of brands and creators who need to be noticed. In this lively procession, designer Charlotte Chesnais gracefully straddles the border between fine jewellery and design with a collection of candlesticks developed in a limited series for the Italian luxury emblem Loro Piana. Precious objects act here as interior ornaments. Their organic and fluid shapes are characteristic of the work of the Parisian jeweller. These exquisite decorative pieces are available in gold, silver and bronze with single, double or triple branches. Their bases draw free, sensual and voluptuous lines that seduce us, being the very expression of pleasure experienced by the designer at all stages of their design: "I need to explore shapes and to have fun." she says, "This is when good things happen. I love sharing and learning with ateliers and craftsmen." 1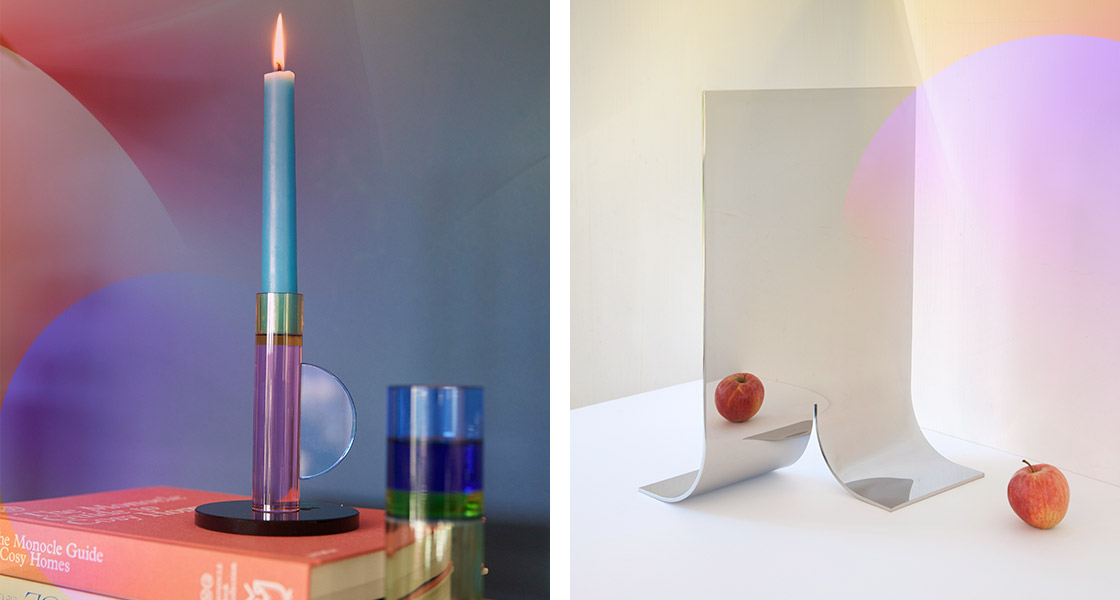 Adorned with their finest finery, our interiors are transformed into lively places, making our lives more flamboyant. Born from the meeting of creators Julie Hugau and Andrea Larsson, the line of conduct of Reflections Copenhagen embraces this festive aesthetic. Andrea Larson explains: "The idea came from a need to inject some fun into the home." The Danes thus specialise in crystal decorations, created in the charm of an Art Deco style transfigured by bright colours and bold graphic shapes. "We move in the spaces we find the most fun. And sometimes, the outcome moves more in the direction of an installation piece as opposed to a piece with a specific functionality", 2 continues Larson. Surrealist mirrors, bookends, or embellished crystal tables respond as much to their primary functions as they allow games of reflection, seduction and desires. The result is a practical decoration but where timeless glamour, resurrected from the boudoirs of the Roaring Twenties or disco nightclubs, takes precedence so that neither the night nor the party ever ends! 
Liberating Creativity
For this next "getaway to pleasure", several artists, architects and designers claim the right to daydream and promote radical optimism. Like the iconic Jean-Charles de Castelbajac – guest of honour at the previous show and pioneer of an aesthetic of pleasurable fantasy – a new generation of designers is following in his footsteps with pieces inspired by their own utopias. So it is with Emanuele Stamuli and his eponymous Stockholm-based studio. Driven by the desire to create a new perception of reality, Stamuli offers a regressive experience that rationalises the form to explode sensations, especially visual ones, better. "The goal for these objects is to be perceived as pure colours, to create a dissonance with the low tones of a domestic environment and to give the user the opportunity to escape from the ordinary.",3 he explains. Beyond the bold colours, the simplistic contours of the tables, chairs and mirrors of the​​​​​​​ Tagadà collection invite us to have fun with surprising games of scales, evoking the playfulness of a human scale doll's house.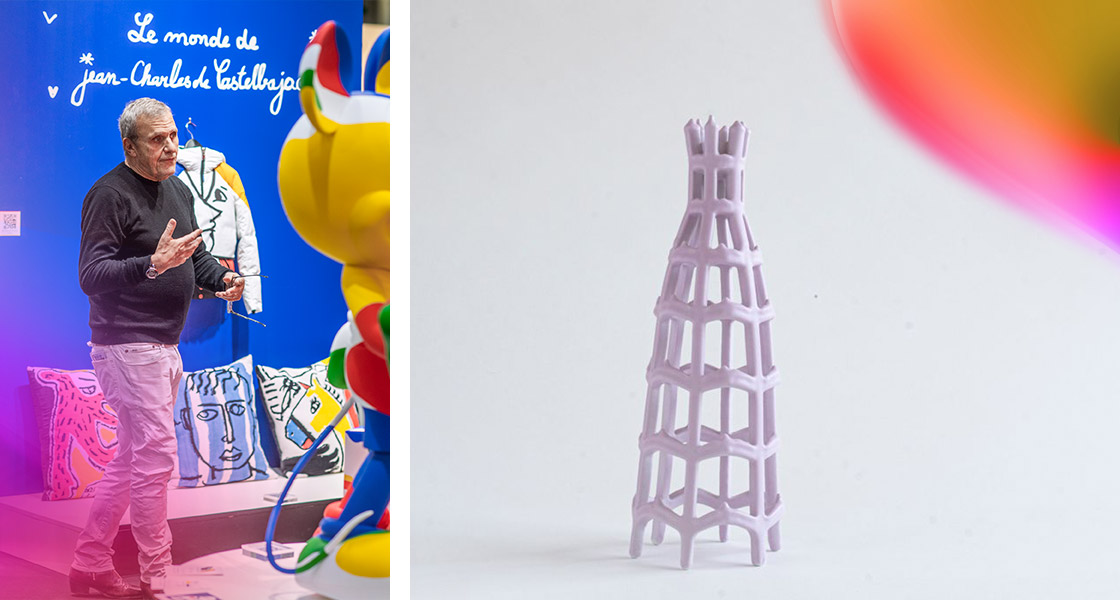 Blinding colours and fanciful proportions guide us towards more "fun" expressive territories. This dynamic of the positive is also very significant with the design editor​​​​​​​ Pulpo, which adds a poetic dimension to it. Founded in 2006 by the German couple Patrick and Ursula L'Hoste, Pulpo collaborates with renowned designers, including Sebastian Herkner, Elisa Strozyk and Harry Thaler. For the series of Flaming Stars lamps – a reference to the 1960 American Western that catapulted Elvis Presley to the big screen – the brand partners up with British ceramic artist​​​​​​​ Natascha Madeiski his inventive collection, as much a nod to the Tennessee of the King himself as to the "Italo-eighties" aesthetic of the design movement founded by Ettore Sottsass, interweaves eras and references to carry us away in its joyful nostalgia. A sweetened daydream where form and material are being transmuted into astonishing light sculptures.
Increased sensitivity
The third path to pleasure may be an internal path within oneself. When well-being is associated with a return to basics, the fun is no longer found in exuberance but in an ultra-sensitive exploration. Technology becomes a gateway to new self-perceptions, to playful, uninhibited and more accessible well-being experiences. The search for pleasure then passes through a sensory immersion. Its material translation suggests new forms and sensations, such as the minimalist and repetitive metallic architecture of Jean Couvreur's Frequency shelves for Kataba or the soft and rounded creations of​​​​​​​  Théorème Éditions. Exhibited for the first time in France during the Paris Design Week, this new French house founded by David Giroire and Jérôme Bazzocchi places high technicality at the service of visual and formal poetry. The​​​​​​​ Constantin stool developed with Francesco Balzano is thus cast in one go in a solid resin block. The absence of a joint allows light to pass through the seat, which appears to be suspended in its space – an interior space perhaps as much as a mental one.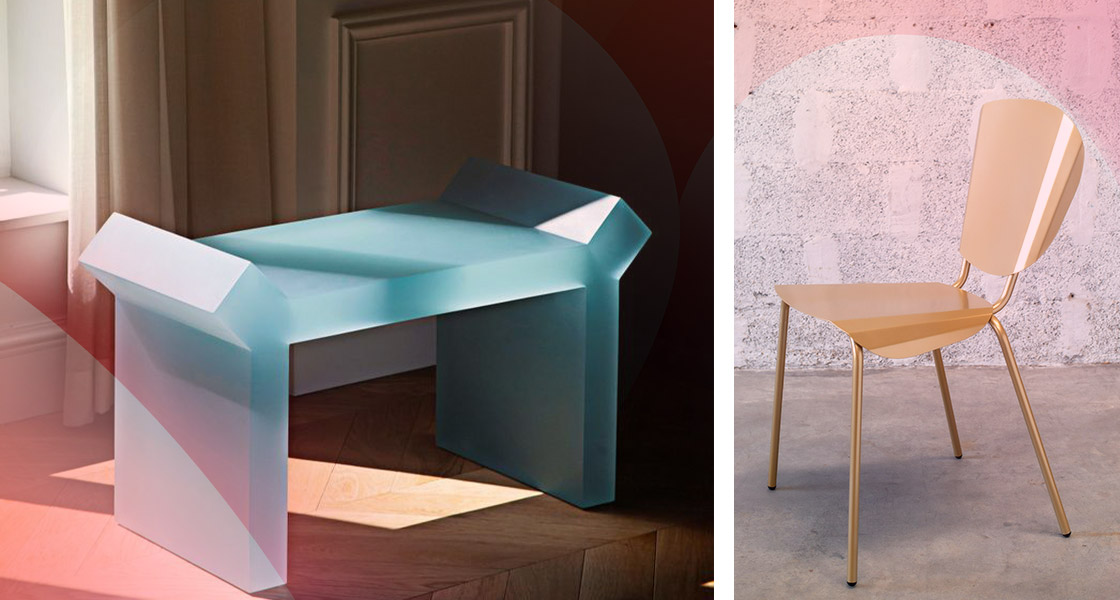 Questioning your environment by flirting with the limit of the tangible world inspires a new bubbling scene that is resolutely turned towards the future. The use of new technologies and tools of today, such as 3D printing, delights the creative appetite of the young and dynamic Hall Haus collective, which adds an essential process of socio-cultural examination and transmission to this research. Founded in 2020 by Abdoulaye Niang, Sammy Bernoussi, Teddy Sanches, and Zakari Boukhari​​​​​​​, Hall Haus navigates mischievously and impertinently between brutalism and industrial design specific to outskirt neighbourhoods to reinvent their codes and urban aesthetics. Inspired by the world of hip-hop as much as by the Bauhaus, the collective had much fun creating the Curry Mango armchair, developed by digital manufacturing tools, to reinterpret the infamous folding camping chair now very on trend in suburban Paris "banlieues". The pleasure then passes here by a celebration of this youth, which, as often, anticipates and dictates the creative directions of tomorrow. Today's trends will undoubtedly feel nostalgic one day for the adults that these young people will become, continuing the joyful waltz of creation in its perpetual reinvention. So join the dance and, most importantly… Enjoy !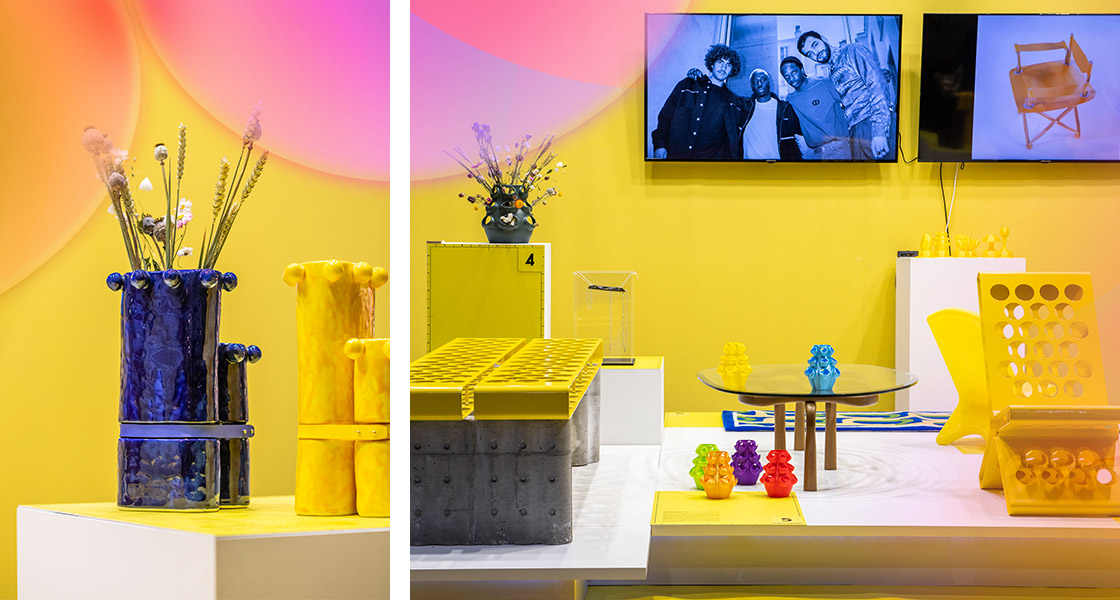 1.    New Brand To Know: Charlotte Chesnais, Lorelei Marfil, Forbes.com, 5 January 2021
2.    Reflections Copenhagen: When Interior Meets the Arts, Illum. dk 
3.    Swedish design studio Stamuli unveiled its eye-catching Tagadà collection at Edit Napoli 2021, Kieron Marchese, Designwanted.com, 12 November 2021