Have you just stepped inside the fair? Just this once, don't look immediately for everything new at stands; rather, look at what's beneath your feet. The kilometers of carpeting you'll be walking on will now be recycled. 100% of this carpeting that cushions your steps and softens the whole atmosphere of our halls is going to get a second lease on life. This is something that the SAFI production teams, who set up all the infrastructure to host you, have wanted to do for quite some time, and it's now becoming a reality thanks to cleaning firm Millenium. Folding up and loading of 4 tons of carpeting into semi-trailers, then its transportation…This project is time- and labor-intensive, but important in every respect. The carpeting will then be treated by Le Cèdre. This social and solidarity-based enterprise durably employs individuals with disabilities. Specializing in waste sorting and management, they oversee the cleaning, cutting up, and reconditioning of the carpeting into balls, which are then processed by Veolia into reusable material for the plastics industry or insulation. 
The goal: 50% of waste recycled 
Cardboard, paper, wood, plastic, aluminum cans… other objects and materials that are widely consumed by stand builders, food service outlets, or the fair organizers, also have their own sorting and processing channels. 38.5% of waste was thus recycled after the September 2021 session, and 42% after the fair the following winter. "Our goal is to reach 50%", states Philippe Delhomme, Chairman of SAFI. We kept improving for this September 2022 session, reaching 45% of sorted waste. Now, you can look up, and notice in passing that the lighting in halls 5A, 6, and 7 is now produced by LEDs. Other exhibit halls will be equipped with them in the coming months.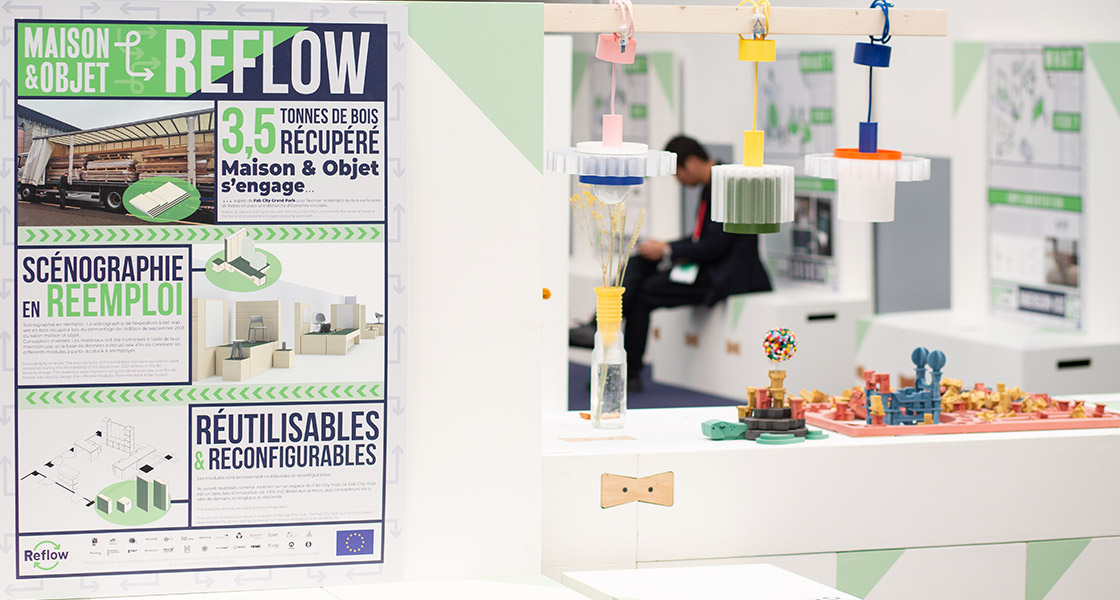 Signage that's stored and reused 
Where shall we go next? To find out, you need to look at the signs, banners, totems, and maps, in other words, a total of 3663 m2 of information to guide you from one hall to the next and tell you what stand names are; 94% of these are printed on sustainable materials. This means no solvents used in the glue, no PVC, and the use of mostly recycled and recyclable materials. To make seat covers, for example, within which you'll find…the signage from the next fair. "Nearly all of it is now stored and reused", says Franck Baldini, Technical Director of the fair. It's as much a matter of personal values as professional ethics that prompted the Technical and Logistical Director of SAFI to educate the event's suppliers on environmental standards. This now motivates him to take things even further. 
Creating upcycled furniture: a long-term project
In March 2022, you might have noticed furniture at the fair made from wood recycled from the previous session. This great demonstration is a complex one to keep going. Associations, creatives, and firms that use upcycling can rarely store and transport waste. Recycling will therefore remain the standard for the time being. But this project has not been completely abandoned. The search for new channels and collaborations is constant and long-term. It seeks to fulfill three major objectives: sourcing more sustainable materials, improving sorting for recycling, and, finally, reducing the consumption of materials, products, and energy.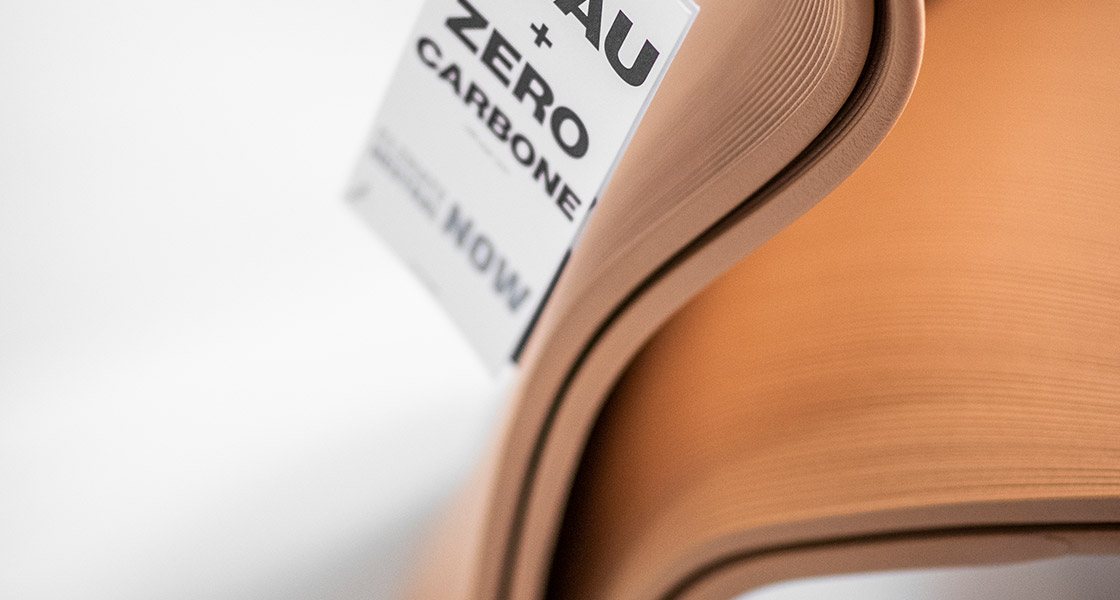 Unsold food is donated to the Red Cross (Croix Rouge)
Feeling a bit hungry at the fair? If you're worried about food waste at an event that hosts 60 000 people and feeds even more, just know that unsold food from the forty-or-so food service outlets is collected and donated to the local Red Cross (from the 95 département), which works to serve the neediest citizens in our area. The catering arm of VIPARIS, which hosts the fair, is also supplied increasingly by local farming networks in Île-de-France. Mineral water from the Vallée de Chevreuse travels only 50 km from its spring, and our "French potato chips (crisps)" are delivered to us by a farmer located less than 100 km away, with no middleman. Priority is given to small-scale artisans and local farmers, as long as they can ensure the necessary volume for such a large-scale event.
And on the visitor side? We encourage visitors to sort their waste by choosing the right bin with the right color from those found all over the site (which are reused each edition of the fair). Using the app to prepare for your visit or get around the fair also means less paper. 
One little degree = a big impact on energy consumption
And lastly, you may not have noticed, but, whether it's air conditioning or heating, the set points that define when these should be used to cool or heat the aisles of the fair have been modified by one small degree. It's a barely perceptible difference that has a significant impact.  "When we don't start up the cooling units, we simply use the halls' natural ventilation, and energy consumption is truly minimized. In January, we will undoubtedly heat the halls a bit less", announces Franck Baldini. It's a decision that, amid an energy crisis, falls in line with current recommendations on a national level. 
"We've also raised our level of awareness, through the organization of the Sustainable circuit, this guide that helps you identify firms that are making a particular effort to source locally and use recyclable products and renewable materials…", Philippe Delhomme admits. "We regularly consult with all our exhibitors", states the Chairman, "and we're also increasingly asked by our visitors about suppliers who can offer them a more sustainable approach. All this also prompts us to go even further." 
It's a real challenge that requires us to be relentlessly inventive, and with each passing session, obliges us to demonstrate our commitment to a more sustainable event. It's as sustainable as the multitude of relationships that are forged in just a few days during the fair and are built to last, enriching every day of our professional lives.