Mirroring the Maker Movement, Laura Bethan Wood's world serves up an eclectic blend of digital culture and artisan expertise. Her singular, sophisticated and eccentric style has already caught the eye of big-name brands such as Moroso, Hermès and Rosenthal. She invites us to take a virtual step inside her London studio, where every last item is pure design gold.
Self Portrait. We invite professionals from the lifestyle, culture and communications world to snap six shots that sum up their story. Smartphone in hand, they have fun revealing all the little nothings around which their world revolves. It's time to take a peek behind closed doors.
Useful object
"A tape dispenser, which came from Italy. I've had it for years. I picked it up in a tiny stationary shop and it got me obsessed with just how good 'functional' objects can be. In this photo, it's sitting on a stool covered with a Mono Mania Mexico fabric made for Moroso in collaboration with Italian textile house, Limonta."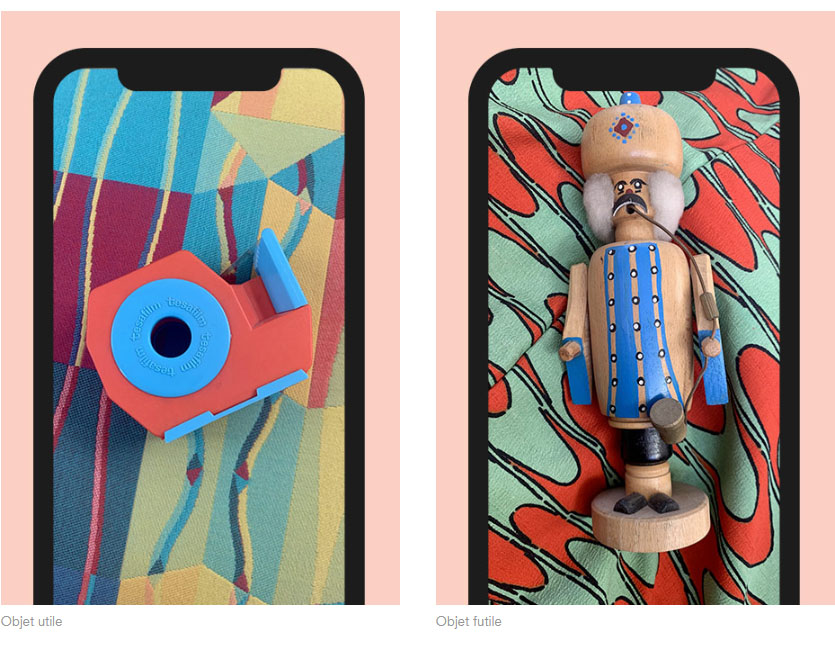 Futile object
"How very dare you! No object is futile in my eyes!! But if I had to choose, I'd say my smoking Christmas nutcracker from Frankfurt (räuchermann), who goes by the name of Walter. I found him whilst being shown around the city by the wonderful designer Sebastian Herkner, who also gave me the special incense that makes the nutcracker's pipe smoke. I have a passion for painted wood objects and have collected lots of different types, which served as inspiration for my Canapé collection, originally commissioned by Tory Burch.
In the background: my favourite Kimono, which I recently brought back from Japan."
A souvenir
"This mini-zine from the lovely Toru Watarai, which turns the spotlight on his Balance Ikebana. I met him at Loewe during last years' Furniture Fair, and was extremely lucky to be invited to take part in one of his workshops, where we created an arrangement to sit in one of Loewe's beautiful leather Ikebana baskets. When I returned to Japan at the end of last year, I met up with him to explore all the different shrines in the area where he lives, and he treated me to a very tasty meal with his family.
In the background: a cream swirls sample from the Big Abigail sculpture I made for Tory Burch"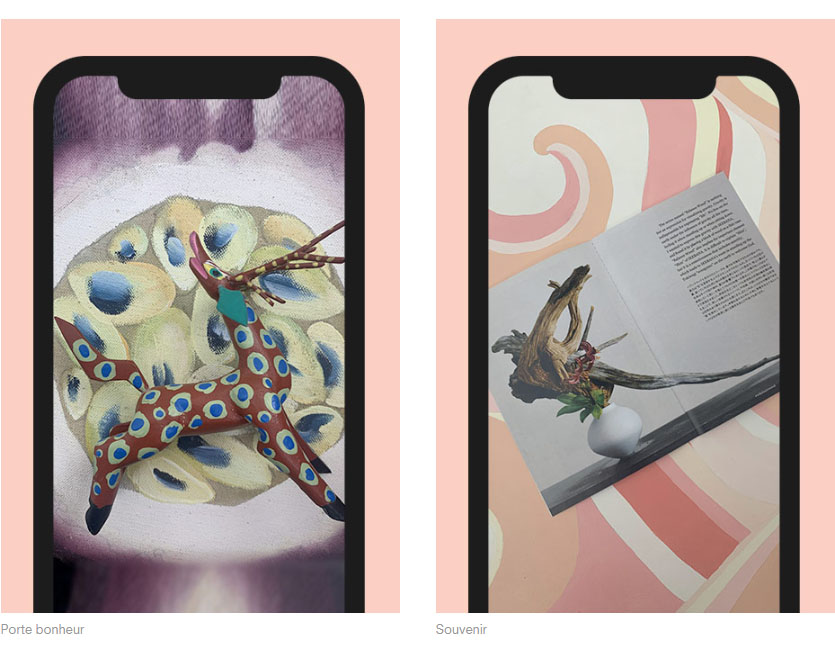 Good luck charm
"My Alebrijes, which are wooden animals from Mexico. I actually have two of them. This one lives in my studio and my other one, a hare, lives at home. The hare was gifted to me by an older friend I had when I was something like 14 or 16, and whose amazing dress sense and creativity I really admired. I dreamed of going to the place where such bonkers colours and patterns came from. I picked up this psychedelic deer on my first ever trip to Mexico, which I got to visit as part of the Designer of the Future Award. It's as though the hare has been a lucky charm throughout my life, fuelling my desire to explore colours and patterns.
It blends beautifully into the passion fruit painting you can see in the background, which I did for the Hermes 'Fruits of Labour' window project."
Current crush
"I found this glass pumpkin at a flea market at the end of last year. At the time, I was in the process of designing a dining experience inspired by a combination of the psychedelic movie "Suspiria" and Gene Wilder's Willy Wonka & the Chocolate Factory. The dinner was hosted at the ICA during Frieze week, and was based on the concept of the Harvest Feast being eaten in a world of HyperNature, inspired by a tree I had designed for the Maison Perrier-Jouet campaign. The pumpkin continues to grow in my studio and still catches my eye!
The pumpkin sitting on samples of the Harvest Moon designed as part of the set for the dining experience.