Thanks to a healthy dose of karma, or most likely creativity, materials or goods that are upcycled or creatively reused are granted a far better life than their recycled counterparts. It's almost as if the process gives them a renewed sense of value. Recycled paper is still paper. But the bicycle tyres and inner tubes that enter the workshop of Italian firm Cingomma emerge at the other end as belts. Claro? Another accessory that flaunts the same credentials is a generously sized bag cleverly refashioned from a sail by German brand 360°. And if you're a fan of natural materials, such as leather, both the bags and shoes produced by The ReMaker and designed by Yuttana Anothaisintawee are manufactured from old leather garments.
With a little help from upcycling, plastic's sins can be partially forgiven, offering it a new lease of life and the attractive appearance it has so often lacked until now. Water bottles become small bathroom storage solutions in The Bridge Distribution's hands, and when Stempels & co have worked their magic the bottles re-emerge as plant pots. Recycled plastic is also the key ingredient that goes into the softly hued baskets and storage bins made by Handed By.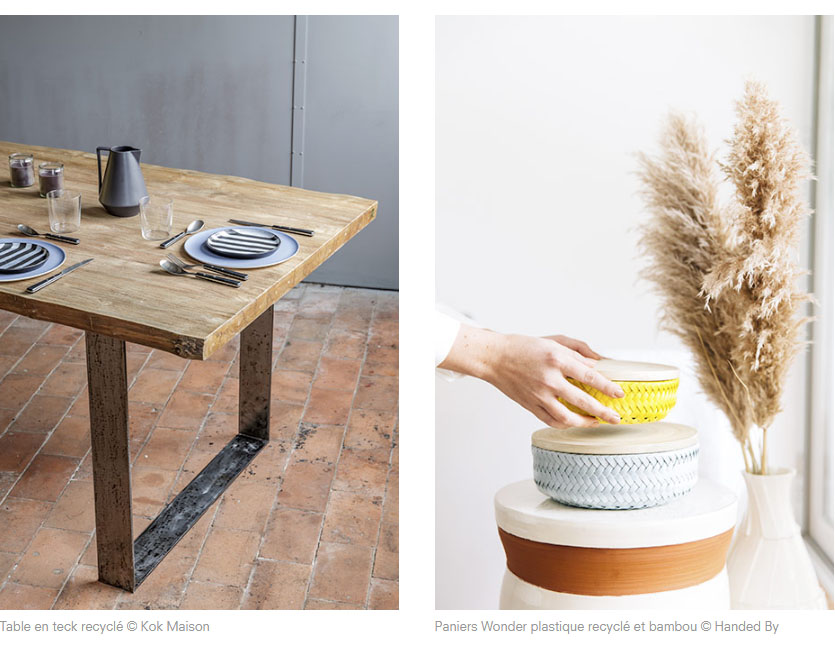 Dutch firm Urban Nature Culture has a name that speaks volumes, flying the flag for cleverly designed pieces that are not only tailored to our urban lifestyles but are also in-tune with nature. Products are selected based on the way in which they are manufactured as well as the materials that are used. Vases, carafes, tea cups, champagne glasses and even a light are all made from recycled glass. The silk that goes into their rugs is the product of upcycling, too. And when sweetcorn kernels head off to be canned, the plant's leaves are invited to enjoy a rather more glamorous future, being woven into beautiful, sustainable baskets. The level of commitment is equally impressive at eco-design and upcycling workshop Karteko. Their fruit baskets, bookends and trinket dishes are all made from old vinyl records, and the electric cable on their portable lamps is beautifully disguised with a knitted tube of soft recycled wool.
To avoid contributing to deforestation, it is crucial that any teak used in furnishings comes from regulated, FSC-certified plantations. KOK Maison has opted for another solution, however, to ensure that no trees are felled at all. Its sideboards, tables and shelves are all made from old wooden joists, flooring, door frames and stud walls from the Indonesian homes that are now sadly being knocked down to make way for brick and concrete buildings. On another continent, Danyé's wooden picture frames are also recovered from demolition sites, and its chairs, whose hand-painted designs all have a story to tell, are sourced from South African schools.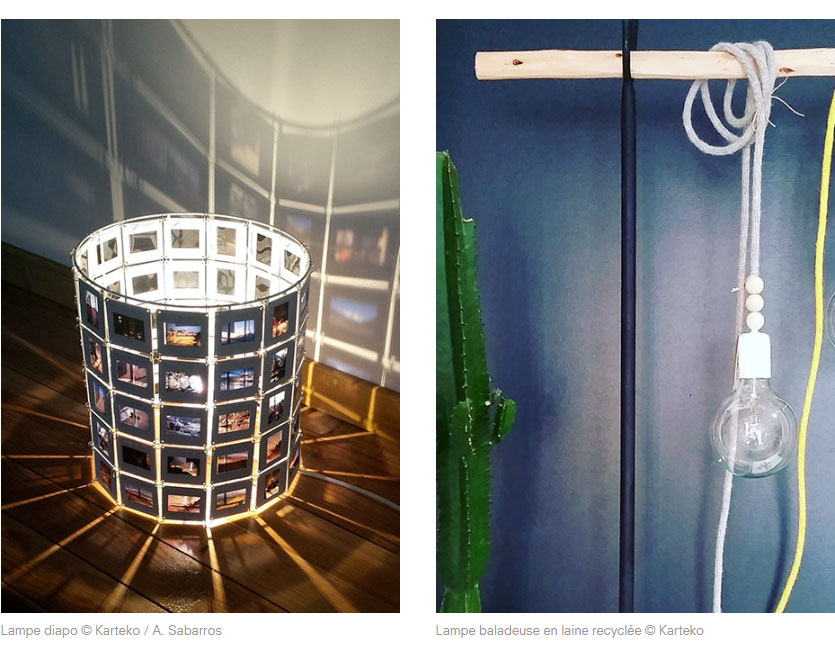 Creativity has no limits in the upcycling world, with the only possible limit being a shortage of raw materials. Sardinian firm Madame Foile weaves delicate and poetic fabrics from wool, cotton and… recycled VHS tapes. That particular material is now becoming increasingly hard to find, but these astounding textiles will always be around as a subtle reminder of what once was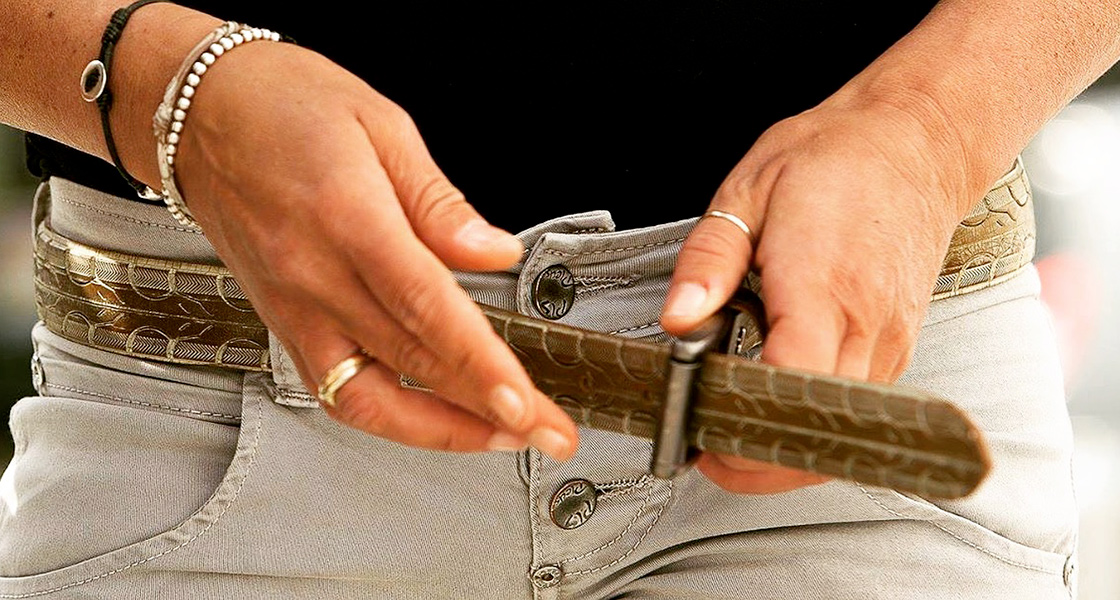 Find more with the MAISON&OBJET Sustainable label, The eco-friendly itinerary.