Forest 
After galvanising the Tout Paris with its summer terrace with a lovely view of the Eiffel tower, the restaurant of the Musée d'Art moderne de Paris unveils its indoor dining room. For the winter season, the unconventional chef Julien Sebbag invites you to discover this brutalist style spot with a post-apocalyptic ambiance designed by Studio Uchronia. Centrepiece of the decor, a digital plant-based fresco is displayed on the concrete walls, thereby resonating with the vegetarian cuisine of the chef who compliments vegetables like no other.
Musée d'Art Moderne de Paris
11 avenue du Président Wilson - 75016 Paris.
Tel. +33 (0)1 84 25 12 22
www.forest-paris.com
 
Café Nuances
You can't judge a book by its cover! Behind its Art Deco marble facade, where you can still see the inscription "Butter, Milk, Eggs", the former dairy store located between the Place Vendôme and the Opera is home to the craft roasting house of the Charles and Raphaël Corrotbrothers. Studio Uchronia once again signed and amazing and contrasted showcase, where memories from the past reverberate with a highly colourful retro-futuristic style. And we undoubtedly have not heard the last of it. The group led by Julien Sebban will be running a 200 sqm. café, specially designed for Maison&Objet.
25 rue Danielle Casanova - 75001 Paris.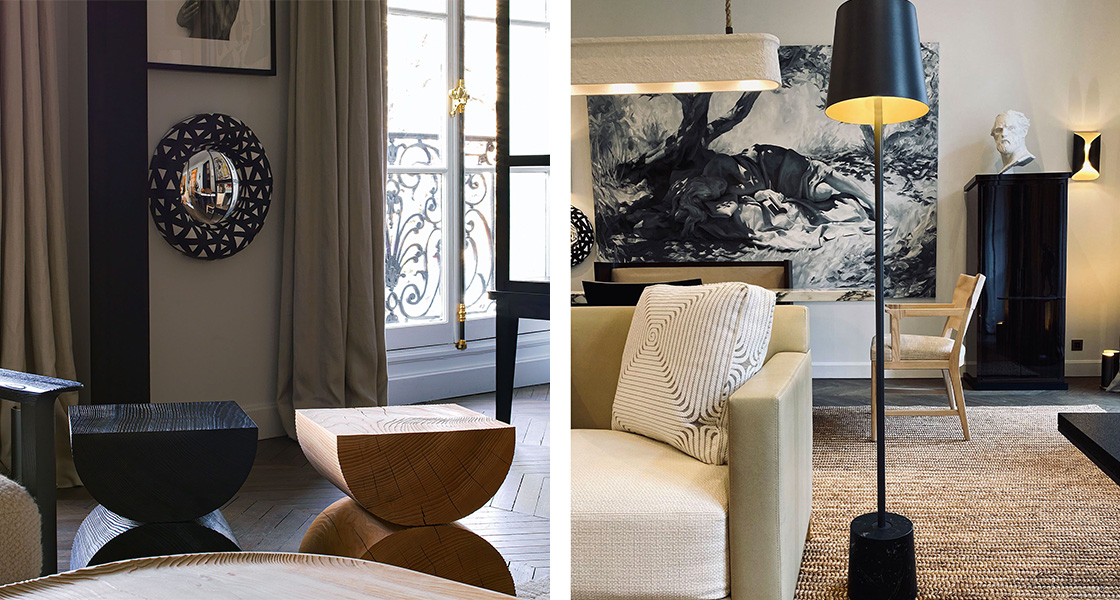 Hôtel de la Marine
Heading towards Place de la Concorde. More than four years of renovation works were necessary for the Hôtel de la Marine to retrieve its radiance of the past. Built during the reign of Louis XV, this iconic monument located just next the Hôtel de Crillon, used to be the Crown's storage, technical and repair warehouse before becoming the headquarters of the Ministry of the Navy up until 2015. Now open to the public, this architectural jewel form the 18th century provides an immersive experience to discover the heritage and the lifestyle from that age.
2 place de la Concorde - 75001 Paris
Tel. +33 (0)1 87 05 30 30
www.hotel-de-la-marine.paris
Gilles & Boissier
It was a dream but Gilles & Boissier made it come true. For the two past years, Partick Gilles and Dorothée Boissier have been displaying their furniture in a gorgeous boutique apartment located on the Paris fashion artery. In March, the couple of architects will be staging their new creations in this entirely decorated venue, from the living room to the office and the bedroom. Named Les Choses Essentielles, the collection includes lighting, objects and accessories; some of the creations are the result of the agency's projects. A good way of finding inspiration. 
2 avenue Montaigne - 75008 Paris.
Tel. +33 (0)1 88 40 09 69
www.gillesetboissier.com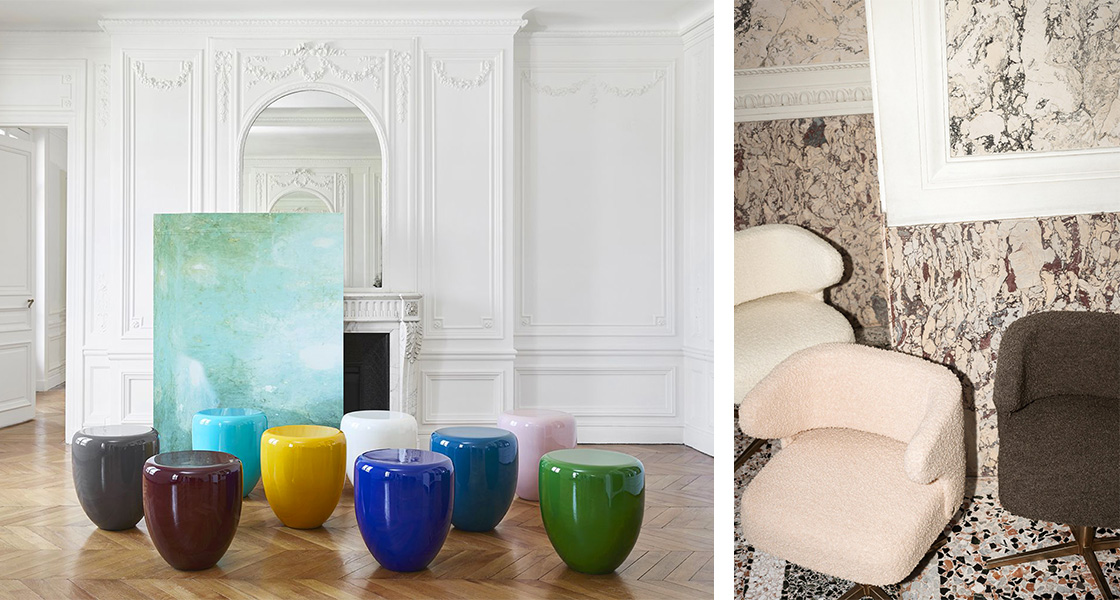 Féau & Cie
If travelling on a time machine is your dream, this is a good opportunity to do so! As an exception to its normal schedule, the exclusive Féau & Cie. House, specialising in the design and reproduction of panelling since 1875, will be opening its doors to the public. Located next to Etoile, the workshops and their splendid Eiffel glass roof are home to antique panelling dated back from the 17th century to the 1940s. And that's not it. The Invisible Collection will also be part of the festivities. The online furniture store will present a limited edition collection crafted by design stars (Charles Zana, Laura Gonzales, Vincent Darré, etc.) with fabrics from the Dedar House.
From 23 to 28 March from 10 AM through 6 PM.
9 rue Laugier - 75017 Paris.
Tel. +33 (0)1 47 63 60 60
feauboiseries.com
 
Livingstone
During the Maison&Objet In The City event, the indoor furniture editor specialising in stone work, will open the doors of his new showroom in a place steeped in history. Just next to the Arc de Triomphe, Livingstone took over the former gallery of the Compagnie de la Chine et des Indes, which was the Paris mecca of Far Eastern art for decades. The Burel Architecture Design agency was responsible for planning out the space while keeping with the soul of this historic location. To kill two birds with one stone, you will be able to see the creations of famous designers displayed just next to treasures from the past, such as the 19th century elevator which was entirely restored.
39 avenue de Friedland - 75008 Paris.
Tel. +33 (0)1 89 16 61 77
livingstone.art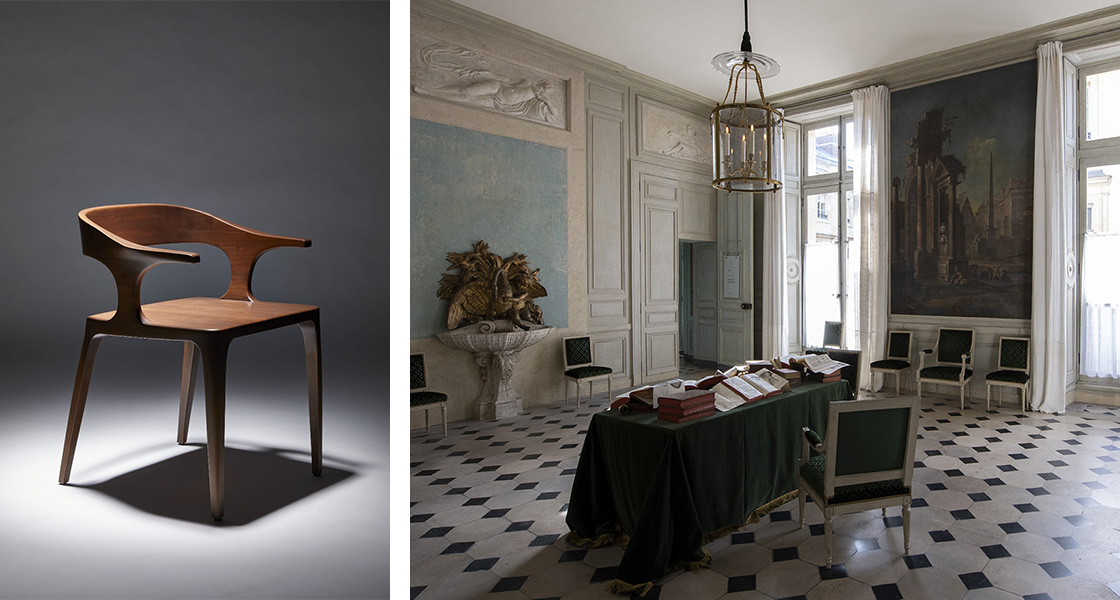 Strole down Rue de Lille 
In the Carré Rive Gauche, the rue de Lille will be swaying to the beat of Maison&Objet In The City. On the part of the street stretching from Rue Saint-Pères to Rue de Beaune, you will find four must-see addresses. Follow the guide.
First stop at 1831 Art Gallery. The contemporary art gallery will combine art and design creations crafted by 10 artists from across the globe, as well as talks and a meet and autograph signing event in the evening.
Just opposite, Cahan Gallery enriched its Murano glass table collection released in September last year, which now offers a new range of colours.
Only two steps away, Atelier Tortil, the high-end furniture, lighting and home objects edition house will have you discover its world and bespoke services in its showroom.
Last on the list comes the May Gallery, where interior designer Charles Tassin will unveil his chill chair, a sculptural piece made of cast aluminium, in the same vein as the console table with the same name.
1831 Art Gallery 
6 rue de Lille - 75007 Paris.
Tel. +33 (0)1 75 51 78 68
www.1831artgallery.com
Atelier Tortil
14 rue de Lille - 75007 Paris.
Tel. +33 (0)6 09 02 04 23
ateliertortil.com
Chahan Gallery
11 rue de Lille - 75007 Paris.
chahan.com/en/gallery-home/
May by Charles Tassin
23 rue de Lille - 75007 Paris.
www.galerie-may.fr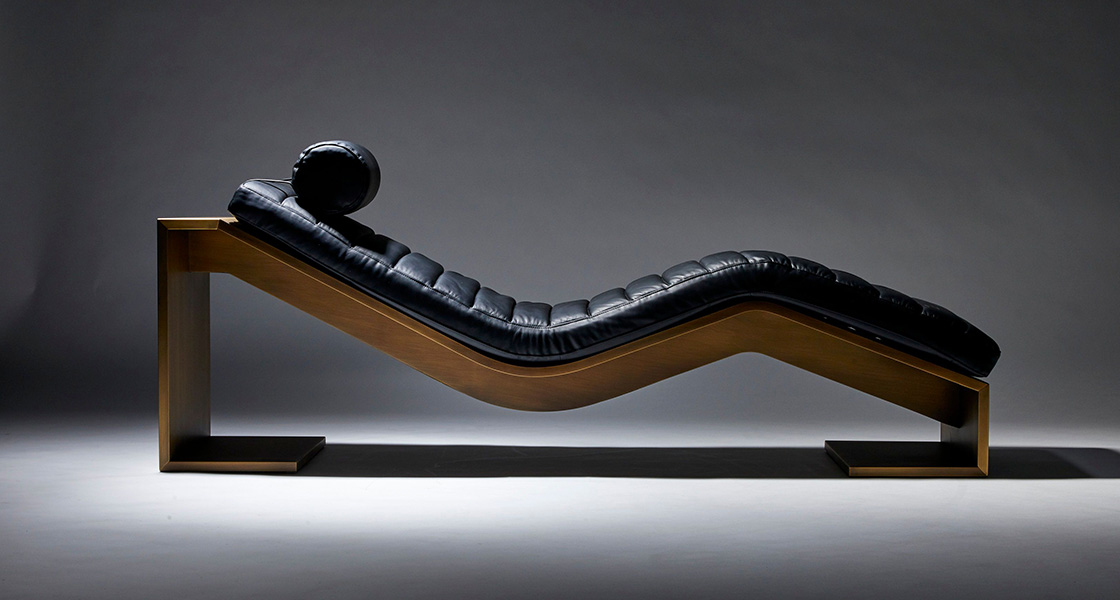 Reda Amalou à la Secret Gallery
It's not called the Secret Gallery for nothing! Hidden behind a large double door in the Saint-Germain-des-Prés area, this original venue is set up in a old chapel. During the Maison&Objet In The City event, this discrete confidential exhibition venue will be hosting Reda Amalou. The French home designer an architect will present his design, objects and furniture collections, which are a mix of art and savoir-faire.
19 rue de Varenne - 75007 Paris.
Tel. +33 (0)1 40 58 47 46
secretgallery.fr
 
Delcourt Collection 
The Delcourt Collection showroom is just a short walk from the Bon Marché, in a charming Paris paved courtyard. A not-to-miss address to see all the new pieces of furniture of the editing house founded by designer Christophe Delcourt. Once again, French artisan know-how will be under the spotlight. While you are there, indulge yourself and grab a cup of coffee at Coutume, the coffee roasters just next doors and swing by the Hamilton Conte showroom just across the street (50 rue de Babylone).
47 rue de Babylone - 75007 Paris.
Tel. +33 (0)1 42 71 34 84
www.christophedelcourt.com