Hôtel de Soubise 
Different eras collide at the National Archives Museum. This Marais-based institution, which occupies one of the most lavish "hôtels particuliers" (private mansions) of the 18th century, invites designer and interiors specialist Pierre Gonalons inside. The end result? In the salon and apartments of the Prince de Soubise, the candelabras and woodwork of times past share the spotlight with around twenty ultra-contemporary creations made in collaboration with fine craft artisans (Manufacture des Émaux de Longwy, Mineral Expertise, and more). Special tours will be provided from September 3-12.
Hôtel de Soubise, 60, rue des Francs-Bourgeois, 4th arrondissement. For information: tel. 06 09 97 73 70.
Le Viaduc des Arts 
Goldsmiths, framers, glass blowers, bronze-makers, cabinetmakers, and more…In all, around thirty fine craftspeople, artisans, and designers carry on fine, endangered craft traditions, just around the corner from the Gare de Lyon, underneath pink brick-and-cut stone vaulting, formerly the Bastille viaduct, erected in the 19th century. The Viaduc des Arts exquisitely celebrates its 25th anniversary with the latest creations of its residents exhibited at the National Institute of Fine Crafts (23 avenue Daumesnil, Paris 12th arrondissement).
1-129, avenue Daumesnil, 12h arrondissement. leviaducdesarts.com. Opening: Friday, September 4th at 6 p.m.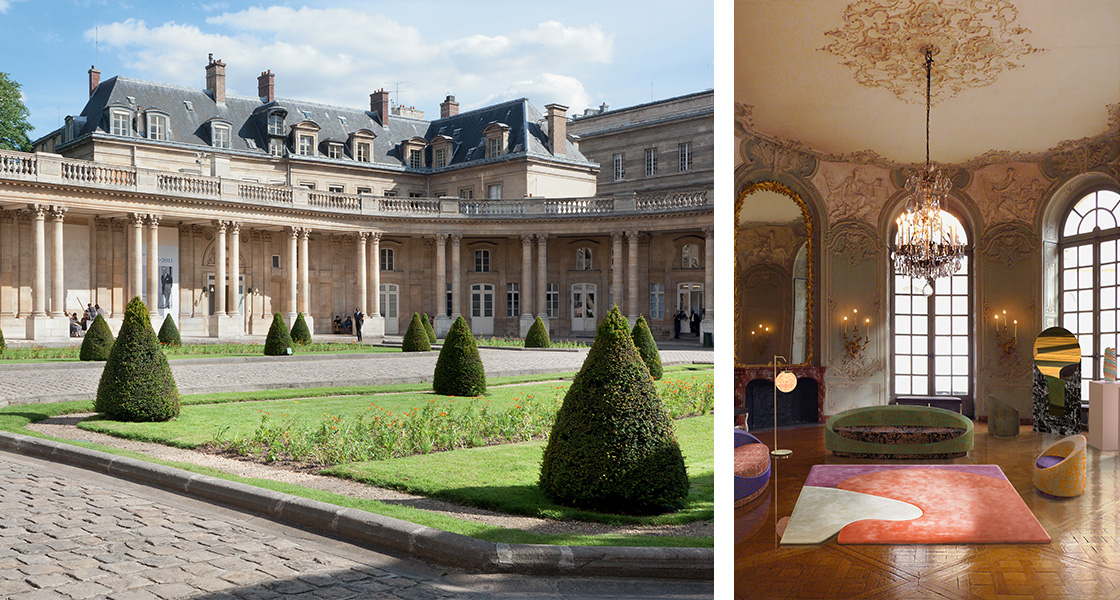 Espace Commines 
For this new session, Paris Design Week sets up its headquarters in the Marais, with a schedule of events from the Paris Design Factory, divided between the Espace Commines and Galeries Joseph (116, rue de Turenne and 7, rue Froissart). What's the goal? To shine a spotlight on up-and-coming young designers and the talents of tomorrow. Head over to Rue Commines to discover new projects from former winners of the Rising Talents Awards from Maison&Objet, the City of Paris Design Grands Prix, or the Rado Star Prize. The future looks bright!
17, rue Commines, 3rd arrondissement. commines.com
Le Shack 
Some secrets are made to be shared. Such is the case with this new lifestyle space hidden in a back alley across from the Opéra Garnier, right where the Calmann Levy printing house used to be. This sublime Eiffel building spanning 1500 m2 now hosts offices for digital nomads, as well as a neo-bistro, two cocktail bars, a yoga space, temporary exhibitions, and pop-up store, open to everyone. Now you're in the loop.
4, impasse Sandrié, (entrance at 3, rue Auber), 9th arrondissement. Tel. 01 83 75 95 40. leshack.fr/
Galerie Vivienne 
It's nearly 200 years old, and it hasn't aged a day! Galerie Vivienne has had a facelift, now emerging from three long years of renovations. And bam! This splendid, Pompeian neo-classical covered passageway, nestled between the Bourse and the Palais-Royal, reveals its frescoes, medallions, and sculptures, looking as they did the day it first opened. What's the perfect way to visit this marvel? Snack on a pizza at Daroco, admire the sculptural dresses at Alexis Mabille, and discover tables and vases from Victoria Magniant at Galerie V, from September 3-12. 
4 rue des Petits-Champs, 2nd arrondissement. galerie-vivienne.com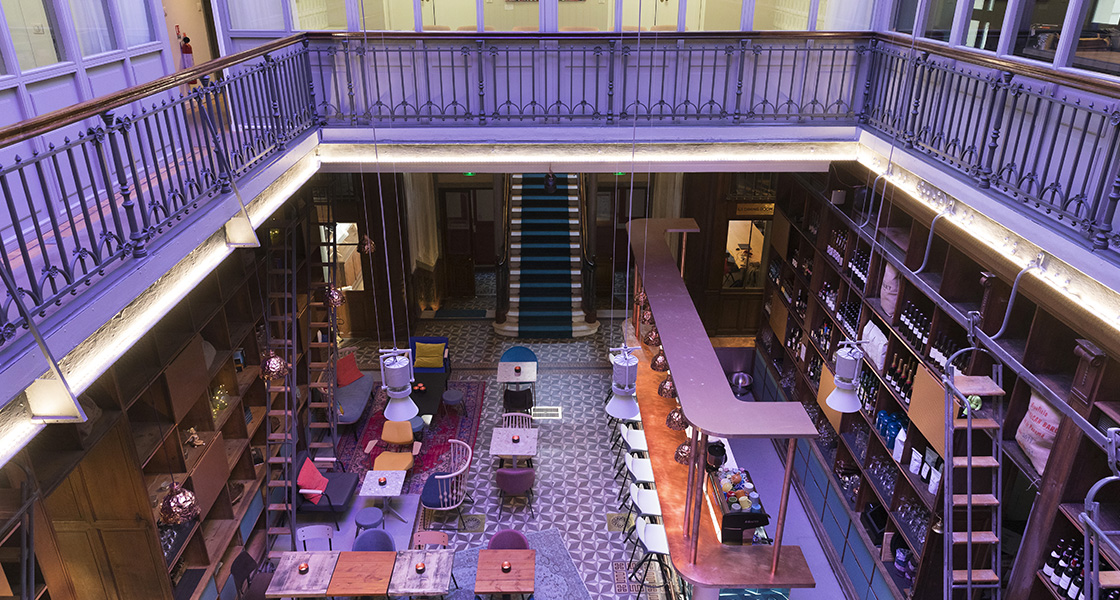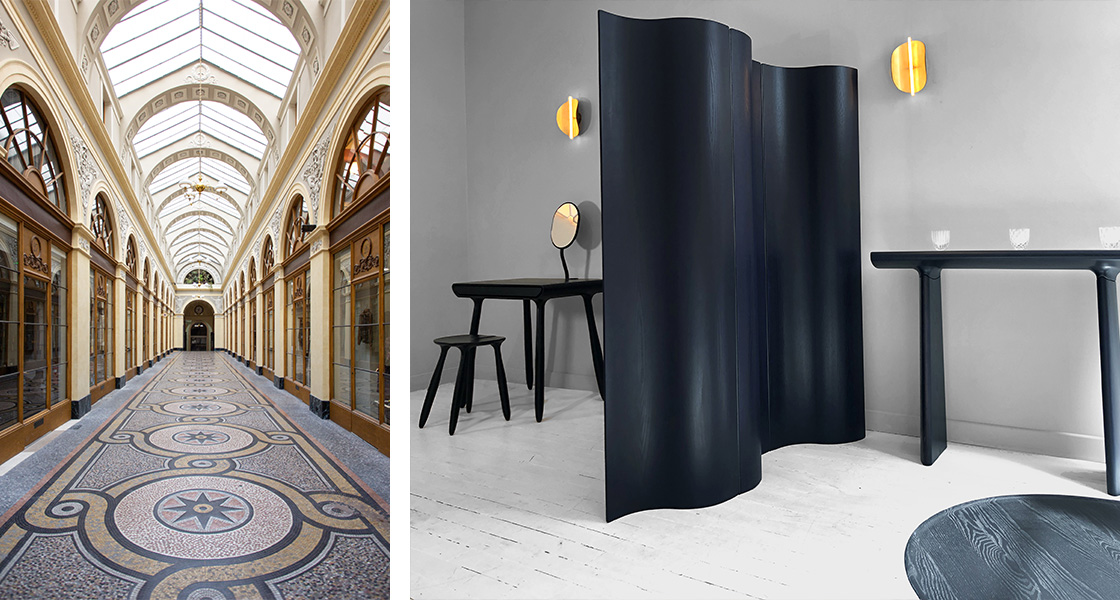 Muuto 
Fans of Scandinavian design, take note: the Muuto design house has just set up shop in the heart of Saint-Germain-des-Prés. Here's a unique opportunity to discover all the furniture and accessories from this Danish label, which has provided a mix of tradition and innovation since its creation in 2008. During Paris Design Week, Muuto will celebrate the opening of its Parisian showroom by showing off its Autumn/Winter 2020 collection. It's an exclusive event not to be missed.
240 bis, boulevard Saint-Germain, 7th arrondissement. muuto.com
Féau et cie 
If your dream is to step aboard a time machine, today is your lucky day. The house of Féau et cie, a wood-paneling design and reproduction specialist since 1875, will be exceptionally open its doors to the public. Near Etoile, its location, featuring a majestic Eiffel glass-domed roof, hosts treasures from the past, crafted between the 18th century and the 1930s. These invaluable archives are stored over more than 1000 m2.
9, rue Laugier, 17th arrondissement. Tel. 01 47 63 60 60. feauboiserie.fr
Le Pigalle 
Joyful, festive, and uninhibited, like the neighborhood it's in, the Hotel Pigalle attracts everyone who's anyone to its deliciously old-fashioned lounge/bar/dining room. With its terrazzo flooring, vintage lounge chairs, flea market furniture, vinyl record bin, artsy photos, and even a pole-dance bar and a girl outlined in neon, architects Charlotte Tonnac and Hugo Sauzay (from the Festen Architecture firm) pay homage to this part of Paris, where everyone has always loved slumming it with panache. 
9, rue Frochot, 9th arrondissement. Tel. 01 48 78 37 14. lepigalle.paris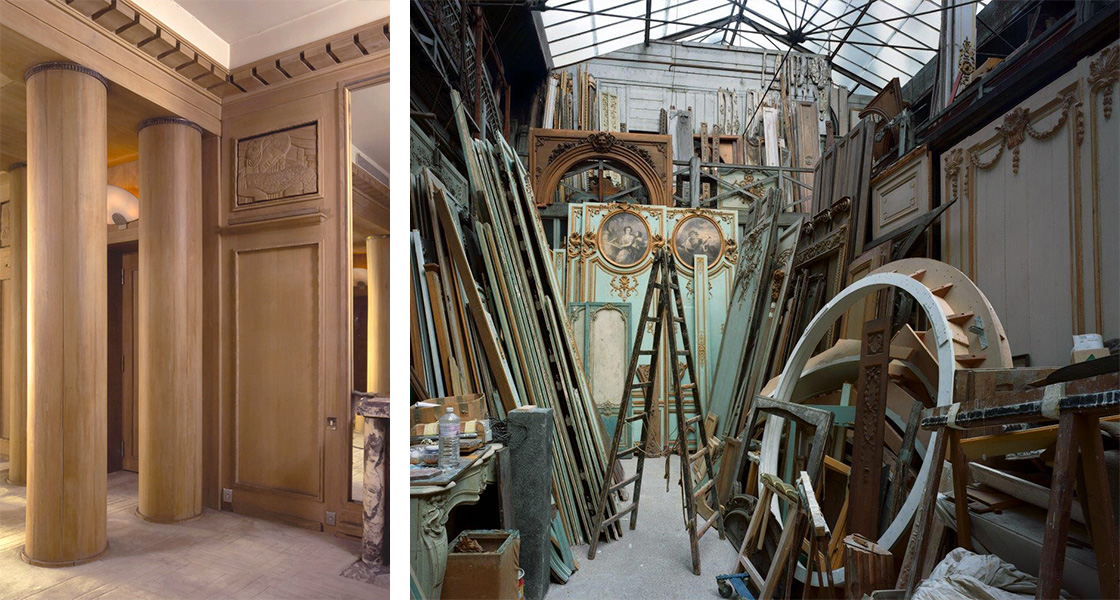 The Socialite Family
Qui l'eût cru ? Amoureuse de déco et d'artisanat, Constance Gennari a démarré l'aventure The Socialite Family sur le web en publiant des photos shootées chez des familles aux intérieurs inspirants. De fil en aiguille, elle monte sa propre marque et ouvre enfin sa boutique dans le quartier des Grands Boulevards. A la rentrée, elle s'installe au BHV/Marais avec un espace permanent et un appartement éphémère, où elle dévoile ses nouveautés aux côtés de pièces eco-friendly chinées dans le grand magasin.
12, rue Saint-Fiacre, 2nd arrondissement. Tel 01 82 28 06 80. thesocialitefamily.com
The Eiffel Tower
The Iron Lady is back with a vengeance! Le Mobilier National takes part in Paris Design Week for the first time, and it's all happening on the first level of the Eiffel Tower. Head up 57 meters to admire around twenty exceptional pieces from the Research and Design Workshop. Launched by André Malraux in 1964, this space has worked closely with the biggest names in French design, from Pierre Paulin to matali crasset and Andrée Putman. As a nod to the space where they're exhibited, metallic artworks will be in the spotlight.
Champ de Mars, 5 Avenue Anatole France, 7th arrondissement. toureiffel.paris . "Metal and Design", from September 3-8.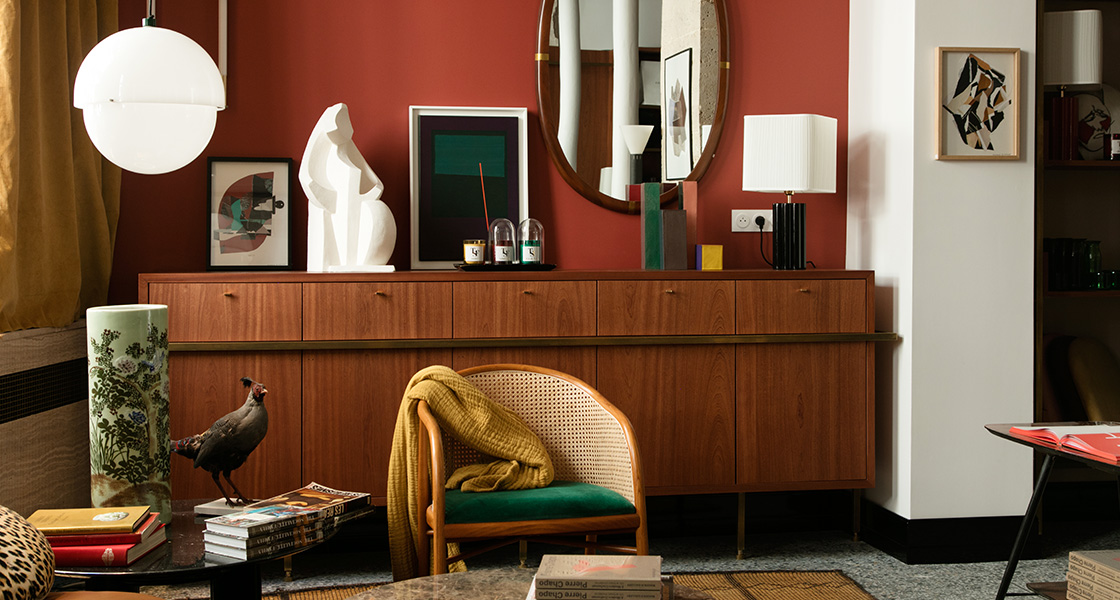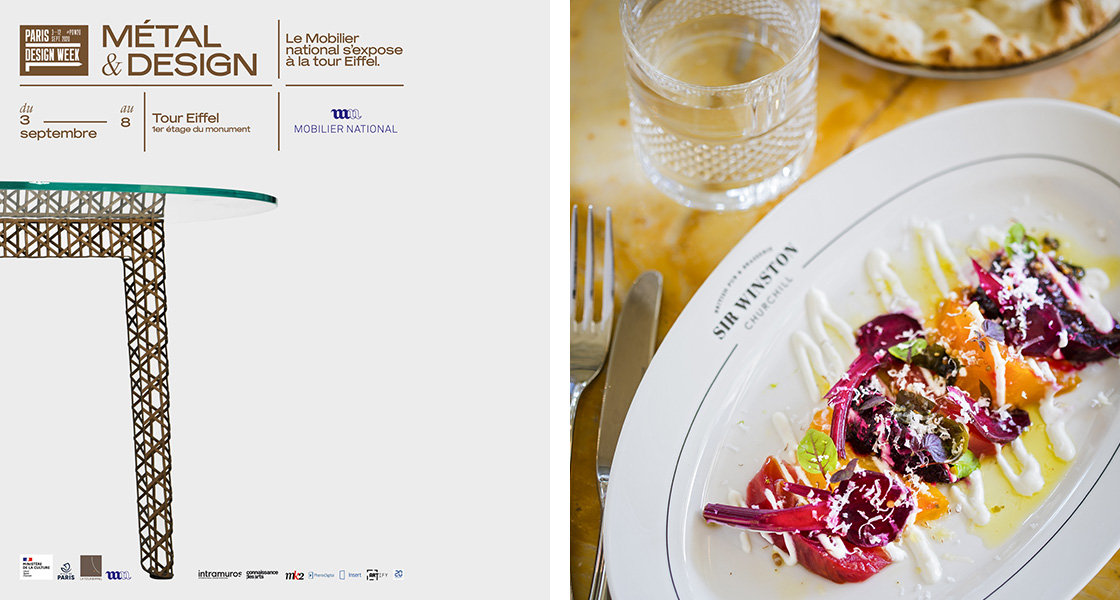 Sir Winston
Nestled right across from the Place de l'Etoile, one of the oldest English pubs in Paris has been completely revamped, under the watchful eye of Laura Gonzalez, 2019 Designer of the Year at Maison&Objet. Its new, ultra-glamorous decor borrows from both English cottages and from Colonial style: printed banquettes, brass ceiling fans, and woven bistro chairs galore. In the kitchen, Indian chef Manoj Sharma simmers up a killer Indo-British menu.
5, rue de Presbourg, 16th arrondissement. Tel. 01 40 67 17 37. sirwinston.fr
Tortuga
Julien Sebbag brings dining back to the rooftop of Galeries Lafayette Haussmann! Right across from Créatures, the Israeli-inspired veggie restaurant that everyone's talking about, this trendy chef presents Tortuga, with cuisine inspired by the sea, and recipes concocted from seasonal, wild seafood. In terms of decor, it was Parisian architect Franklin Azzi, Designer of the Year at the Maison&Objet fair in September 2020, who got to work, creating a dizzying top-of-the-world experience.
25, rue de la Chaussée d'Antin, 9th arrondissement. Tel. 01 42 82 34 56. haussmann.galerieslafayette.com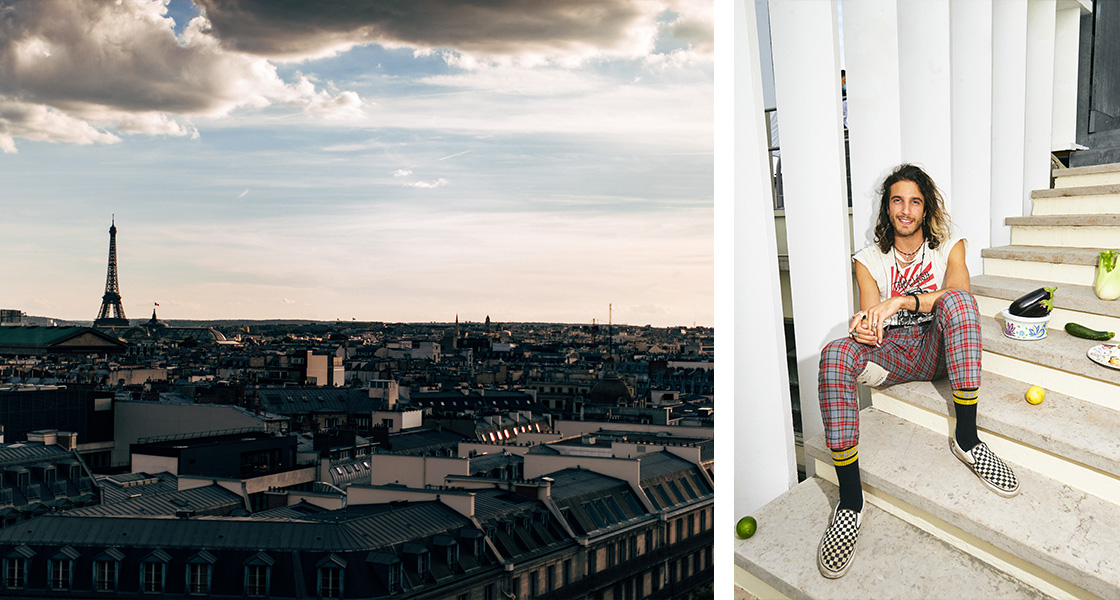 By Julie Zwingelstein