Adults are actually big kids. It's just that the price tag on their playthings grows with them. The jaw-dropping billiard and football tables from Italian brand Teckell are the perfect case in point. Their transparency is as spectacular as their price, which reflects not just the quality of the materials but the expert craftsmanship needed to successfully assemble the metals, precious alloys and tempered glass that go into creating these one-of-a-kind pieces. Frenzied spinning, bounce-back goals… the game can be fast and furious without the slightest need to worry: despite their fragile appearance, these tables are anything but. Neo Legend, meanwhile, has really put the home into home arcade machines by coming up with a coffee table version that boasts a fully customisable design. Welcome to the world of sofa-based retro-gaming that invites you to sip your coffee in the presence of Pac-Man.
"Games are intrinsically about having fun any time, anywhere and at any age. They foster sociability and creativity"
The design houses' desire to give toys and games a more "grown up" feel is an open invitation to behave like a big kid without feeling guilty or losing face. RS Barcelona's ping-pong tables are real game changers, doubling up as extremely convincing meeting tables. They make it exceedingly easy to seamlessly slide from teamwork one second to team building the next, helping cultivate team spirit. Games are intrinsically about having fun any time, anywhere and at any age. They foster sociability and creativity.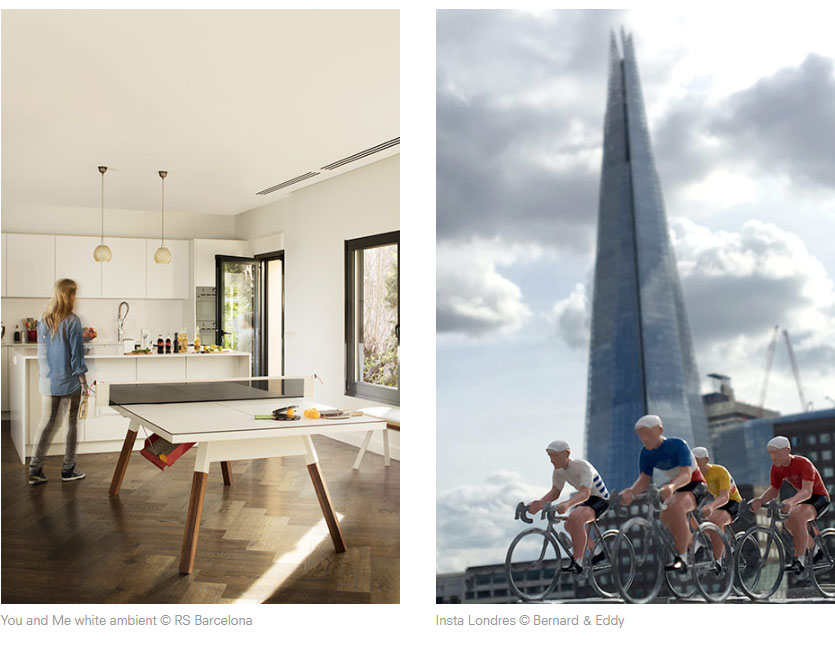 Card games and board games, however, are in a totally different league, calling for players to engage their brains and strategize. They're "big boy'" games. Every generation plays them, and always has. In terms of content, the rules have stayed the same. But in terms of form, the options are now endless. Take the Bauhaus playing cards from Cinq Points, for example, designed by Parisian graphic design studio Cheeri. They flaunt the codes and colours of the iconic Weimar movement, whose centenary is being celebrated this year. Over at Wild and Wolf, meanwhile, even the most recent Ridley's Games range has a slightly retro vibe, incorporating references to the '50s, '60s and '70s that all convey one clear message: having fun never gets old.
Creativity has no age limit, either. The mt -masking tape blog could so easily spark a decorative colour-filled frenzy, with the Japanese brand's adhesive washi paper strips seemingly offering endless possibilities. And using them is, well, child's play.
Almost as easy as the t-shirts from Illuminated Apparel. All you have to do is trace your design on the fabric using any available light source – the light on your smartphone, for example – and it will instantly start to glow, remaining visible for a whole 5 minutes. Now there's an idea that's guaranteed to light up any team building session or birthday celebration.
Adults haven't quite made every last play thing their own, but the temptation is unquestionably there. Petit Collage's colourful wooden blocks that thread onto a stick to form a little rabbit-headed totem make for a highly attractive, highly decorative piece. The Japanese toys from Kiko +&gg* and the fun-filled creations from Spanish-based Londji are equally seductive, not solely for their materials and design, but for their playability, too, appreciated by children and parents alike. Whilst the former simply have fun racing their Bernard & Eddy cyclists around the lounge, the latter, true cycling fanatics, are reminded of Hinault and Merckx and can't help but fantasize about Tour de France breakaways on simply seeing the figurines sitting on their desk. Escaping, if only for a second, is also what play's all about.
By Marie Montuir